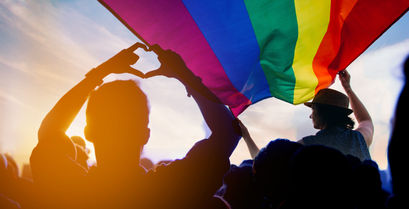 LGBTQ+ Community 2x More Likely To Invest In Cryptocurrency Than the Overall US Population

News Desk
Last updated 31st Jan 2023
36% of LGBTQ+ Americans owns cryptocurrency (compared to 16% of the overall population)
62% of LGBTQ+ people have experienced financial difficulties due to their sexual orientation
Looking at the latest LGBTQ+ Money Study, BanklessTimes.com takes a look at one key stat: why cryptocurrency remains the only service over two times more popular with the LGBTQ+ community compared to the overall US population.
Motley Fool's latest LGBTQ+ money study revealed that 36% of LGBTQ+ Americans have a cryptocurrency wallet - compared to 16% of the overall US population. Out of all financial products listed in the study involving 2,005 LGBTQ+ Americans, cryptocurrency was the only one that LGBTQ+ Americans are more likely to have.
As a more detailer breakdown, 33% lesbian, bi, or gay, 44% transgender, and 29% genderqueer/non-binary respondents said they own cryptocurrency wallets.
So, what makes the blockchain more popular within this community than with the overall US population? Let's take a look.
A refuge from prejudice
Caroline Pugliese, director of creator partnerships at Rally, the open network allowing creators to launch independent economies, told CoinTelegraph that "crypto offers some of the most positive developments and opportunities for the LGBTQ community that we've seen in tech over the past few decades".
She added, "the privacy that blockchain can provide and the open access to many crypto platforms allows people to participate even when their community or physical location is not accepting of the LGBTQ population."
Motley Fool agrees that the anonymity and accessibility a decentralised currency offers is one reason cryptocurrency may be particularly appealing to the LGBTQ+ community, who may face prejudiced attitudes from traditional financial services.
59% of LGBTQ respondents in a MassMutual study, for example, said they didn't think traditional financial services wanted to "help people like them." Likewise, 62% of LGBTQ+ respondents said they had experienced financial difficulties due to their sexual orientation or gender identity in Experian's LGBTQ Money Survey 2016.
LGBTQ Cryptocurrencies
The appeal of cryptocurrency for the LGBTQ+ community has certainly been marked before. The LGBT Foundation launched the LGBT Token in 2018, hoping to "leverage the underserved 4.6 trillion USD market". One notable achievement of this cryptocurrency was putting HIV Tests on the blockchain.
Likewise, the launch of another LGBT cryptocurrency in Spain made headlines earlier in 2022, as the founder vowed to change the world by harnessing the community's spending power. "Since we move this economy, why shouldn't our community profit from it, instead of banks, insurance companies or big corporations that often don't help LGBT+ people?", said co-founder Juan Belmonte to the Thomson Reuters Foundation.
Jonathan Merry, CEO of BanklessTimes.com said,
"The decentralised aspect of cryptocurrency certainly has a specific appeal for many people who, for whatever reason, may wish to avoid those more traditional finance service models. What's clear is that the cryptocurrency market is growing everyday, and that creates scope for a more inclusive, secure product that is going to appeal to those more marginalised members of our society."

Jonathan Merry, CEO of BanklessTimes.com