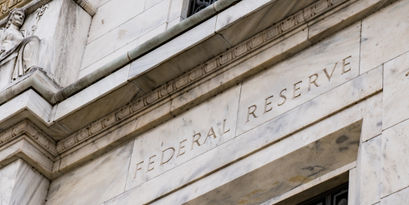 Bitcoin Price Prediction: Don't Fight the Fed

Crispus Nyaga
Last updated 30th Nov 2022
Bitcoin price has been in a strong bearish trend.
The Fed is expected to hike rates by 0.75%.
The Bitcoin price is nearing the important support at $20,000 as investors anticipate a giant 0.75% rate hike by the Federal Reserve. It is trading at $21,500, which is sharply lower than its all-time high of over $68,000. Other coins like Monero, Near Protocol, and Cardano have also slumped.
Don't fight the Fed
The Federal Reserve is one of the most important institutions in the financial world. It is a vital institution because it is the only organization that has a mandate to print the US dollar, the most important currency.
The Fed's decision during the Covid-19 pandemic helped to inflate all assets like cryptocurrencies and stocks. At the time, it lowered interest rates to zero and then started a quantitative easing (QE) policy that added $120 billion to its balance sheet every month.
Now, the bank is set to unwind these policies at a faster pace than expected. In March, it hiked interest rates by 0.25% and followed it up with a 0.50% hike in May.
Now, analysts are anticipating a giant 0.75% rate hike when the bank concludes its meeting on Wednesday. If this happens, it will be the highest rate increase since the Volker era decades ago. In normal conditions, the Fed usually hikes rates by 0.25%.
The bank has embraced a more hawkish tone because of the rising consumer and producer inflation in the US. On Friday, data showed that American inflation jumped to a multi-decade high of 8.6% in May as gasoline prices kept rising.
Here are our best Bitcoin exchanges.
Bitcoin price is also falling as the sector weakens. Celsius, a leading crypto lender, has hired restructuring experts as its business deteriorates. Similarly, companies like Crypto.com, Coinbase, and BlockFi have announced that they will slash their workforce.
Bitcoin price prediction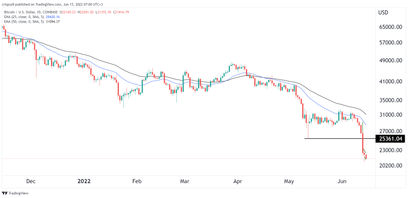 Turning to the daily chart, we see that the BTC price has slumped in the past 10 straight days. The sell-off continued after the coin moved below the important support at $25,000. It has moved below the 25-day and 50-day moving averages.
Bitcoin has also formed a small bearish flag pattern, slightly above the important support at $20,000. Therefore, the coin will likely continue falling as bears target the key support at $19,500, which was the lowest level in 2017. If this happens, the next level to watch will be at $10,000.

Crispus Nyaga
Crispus is a financial analyst with over 9 years in the industry. He covers cryptocurrencies, forex, equities, and commodities for some of the leading brands. He is also a passionate trader who operates his family account. Crispus lives in Nairobi with his wife and son.