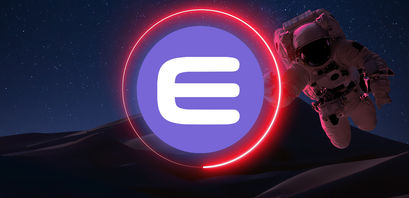 Enjin Coin Price Prediction as NFT Bubble Bursts

Crispus Nyaga
Last updated 5th Aug 2022
Enjin Coin price has been in a strong sell-off.
It crashed to an all-time low as signs of NFT bubble bursting emerge.
Enjin Coin price has been in a strong bearish trend as investors worry about the non-fungible tokens (NFT) industry. The ENJ token is trading at $134, which is about 91% below the all-time high of almost $5. As a result, the coin's market cap has crashed to about $410 million.
NFT bubble is bursting
Non-Fungible Tokens became popular assets during the Covid-19 pandemic. Their popularity was driven by extremely low interest rates and the exciting returns that people were making.
At the industry's peak, we saw many investors allocate millions of dollars on key items. For example, some of them spent millions buying virtual property in platforms like Decentraland and Sandbox.
Today, the industry is being decimated as the bubble in the cryptocurrency and stock market bursts. The volume of all NFTs traded has crashed by over 50% in the past few months. Similarly, many NFTs that sold for thousands of dollars are now worthless.
Learn more about what NFTs are.
Enjin is one of the leading players in this industry. It owns a platform where people can mint NFTs and then market them in easy steps. Enjin does this through Efinity, a platform that runs on Polkadot's ecosystem.
Therefore, the performance of the NFT industry explains why the Enjin Coin price has been in a strong bearish trend recently. Analysts simply believe that the sector will not recover any time soon. As such, it will be a bit difficult for the sector to do well.
Enjin Coin price has also crashed because of the interest rate decision by the Federal Reserve. This week, the Fed hiked interest rate by 0.75%, the biggest increase in almost three decades. It also hinted that it will continue hiking rates in the coming months. As a result, the 10-year and 3-year bond yields are now yielding over 3%, making them better investments.
See how you can buy Enjin Coin.
Enjin Coin price prediction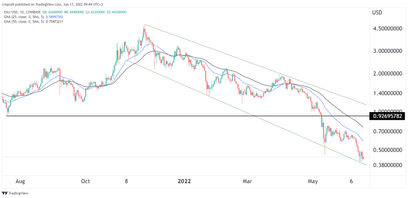 The daily chart shows that the ENJ coin price has been in a steep downward trend in the past few months. The sell-off continued when the coin moved below the important support at $0.9269, which was the lowest level in July last year.
Enjin Coin price remains below the 25-day and 50-day moving averages and is close to the lower side of the descending channel shown in green. Therefore, the Enjin token price will likely continue falling as bears target the key support level at $0.3600.

Crispus Nyaga
Crispus is a financial analyst with over 9 years in the industry. He covers cryptocurrencies, forex, equities, and commodities for some of the leading brands. He is also a passionate trader who operates his family account. Crispus lives in Nairobi with his wife and son.