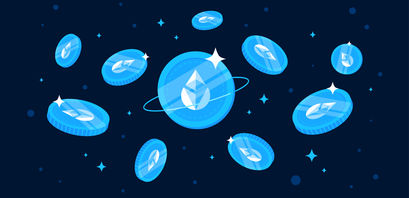 Lido Price Prediction After the Huobi Listing

Crispus Nyaga
Last updated 5th Aug 2022
Lido price jumped sharply on Tuesday.
This rise happened after Huobi listed the coin.
Lido also launched a subgraph on The Graph network.
Lido price bounced back sharply on Tuesday as demand for the decentralized liquidity platform jumped. The LDO token is trading at $0.6930, which is about 73% above the lowest level during the weekend. According to CoinGecko, the coin's market cap has jumped to over $295 million.
Lido is listed in Huobi
Lido is one of the biggest players in decentralized finance (DeFi). It is a platform that provides decentralized liquidity across multiple chains, including Kusama, Ethereum, Solana, Polygon, and Polkadot. It was also one of the platforms that embraced Terra.
The total Lido staked in Ethereum has jumped to over $4.6 billion. Lido has paid rewards worth over $110 million to its holders
Lido is best-known for its Lido Staked Ether (sETH) product. This is a financial derivative that tracks the price of Ethereum. It has a total market cap of over $4.6 billion, making it the 18th biggest coin globally.
Lido's ecosystem is significant. According to its website, its liquidity solutions are offered in platforms like AAVE, SushiSwap, Balancer, Curve, and Ledger among others.
Learn more about how to buy cryptocurrency.
Lido price has gone parabolic in the past few days as demand for the coin has bounced back. The current catalyst for the LDO price rebound is the latest listing of the token on Huobi. Huobi is one of the biggest cryptocurrency exchanges in the world. Typically, crypto prices tend to rise when they are listed by leading exchanges.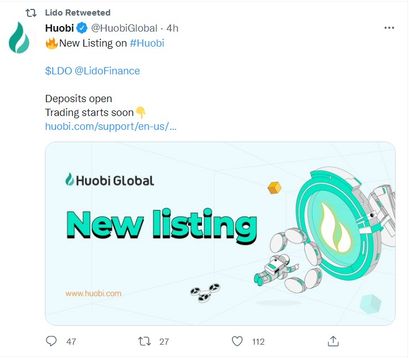 Another reason why Lido price is rising is that the developers recently deployed the Lido Subgraph. This is a feature provided by The Graph that helps developers query and index large subsets of data. As a result, it helps them save time and increase data processing, making it highly effective.
Lido price prediction
The four-hour chart shows that the Lido price has been in a strong downward trend in the past few months. It reached an all-time low of $0.4081 during the weekend.
Now, the coin has moved slightly above the 25-period and 50-period moving averages while the MACD has moved to the neutral point.
Lido is also slightly below the important resistance point at $0.9454, which was the lowest level on May 27th.
The short-term outlook for Lido is bullish, with the next key level to watch being at $0.9454. In the medium-term, however, Lido is still in a bearish trend, with the next key support being at $0.50.

Crispus Nyaga
Crispus is a financial analyst with over 9 years in the industry. He covers cryptocurrencies, forex, equities, and commodities for some of the leading brands. He is also a passionate trader who operates his family account. Crispus lives in Nairobi with his wife and son.