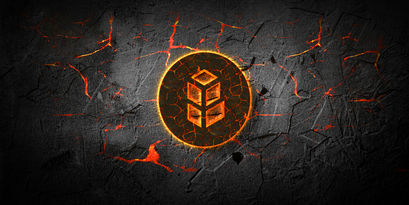 BNT Price Prediction as Bancor Liquidity Providers Crash

Crispus Nyaga
Last updated 30th Nov 2022
Bancor price has fallen by 94% from its all-time high.
Activity in the DeFi pioneer has been in a downward trend.
The BNT price has been in a strong bearish trend in the past few weeks as concerns about its ecosystem continues. Bancor's token is trading at $0.5100, which is slightly above this month's low of $0.4300. Its total market cap has crashed to $133 million.
What is happening at Bancor?
Bancor is a leading blockchain project that is in the decentralized finance (DeFi) industry. It is a DeFi pioneer platform that provides features that make it possible for people to trade cryptocurrencies in a decentralized way. Also, Bancor enables people to earn returns by simply providing their coins in the network.
Bancor made strong strides recently when they launched the third version of the network. Its goal was to help reduce cost of trading and making it easy for users to earn.
It introduced Omnipool, which allow traders to execute trades in a single transaction. Also, it brought Infinity Pools that enable unlimited deposits while using Superfluid Liquidity that can be used for market-making.
Learn more about how to buy Bancor.
Other top features in this version are auto-compounding rewards, dual-sided rewards, and instant impermanent loss protection.
BNT's price has been in a strong bearish trend as investors react to the ongoing challenges in the DeFi industry. The crisis escalated when Terra's ecosystem crashed in May.
The BNT price crash accelerated after the developers suspended the impermanent loss protection. This is a solution that solved the problem where users lost value when staking coins. It allows staking to be safer, easier, and more lucrative for normal investors.
In the statement, the company said that it was suspending the feature. The statement added:
"The temporary measure to pause IL protection should give the protocol some room to breathe and recover. We are working to get IL protection reactivated as soon as possible."
As shown below, the total value locked in Bancor has been in a strong downward trend. It has fallen from more than $300 million to over $73 million. Most notably, the number of unique liquidity providers has plummeted.

BNT price prediction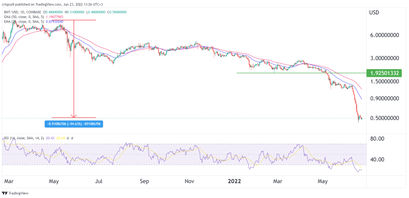 The daily chart shows that the Bancor price has been in a strong bearish trend in the past few months. The coin has crashed by more than 94% from its highest point in 2021. The sell-off accelerated when the coin moved below the support at $1.9250, which was the lowest point in February.
BNT price has moved below the 25-day and 50-day moving averages while the Relative Strength Index (RSI) has moved below the oversold level. Therefore, the coin will likely keep falling as bears target the next key resistance at $0.35.

Crispus Nyaga
Crispus is a financial analyst with over 9 years in the industry. He covers cryptocurrencies, forex, equities, and commodities for some of the leading brands. He is also a passionate trader who operates his family account. Crispus lives in Nairobi with his wife and son.