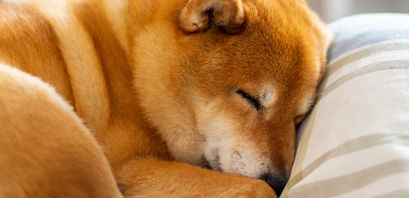 Shiba Inu Price Prediction: Why SHIB is Ripe for a 16% Jump

Crispus Nyaga
Last updated 5th Aug 2022
Shiba Inu price has been in a consolidation phase recently.
Its developers will launch TREAT and SHI stablecoin.
The coin will likely jump by 16% and retest $0.000012.
Shiba Inu price has been in a consolidation phase even after the developers made a series of announcements. The SHIB token is trading at $0.000010, where it has been in the past few days. This price is about 45% above the lowest level last month.
Shiba Inu to launch its stablecoin
Shiba Inu is one of the biggest meme coins in the world. Launched in May 2021, the coin has become one of the most popular in social media. At its peak, SHIB had a market cap of over $20 billion, making it bigger than well-known companies like American Airlines and DropBox.
Shiba Inu developers have worked hard to transition the coin from just a meme coin into a viable player in the decentralized industry. One of their first actions was to launch separate coins known as leash and bone.
Afterward, they launched ShibaSwap, a DeFi platform that makes it easy for people to swap cryptocurrencies. At its peak, ShibaSwap had a total value locked (TVL) of over $150 million.
The Shiba Inu price is moving sideways after the developers published some key information. First, they announced that they will soon launch a new cryptocurrency known as TREAT. The goal of this coin will be to reward participants in the ShibaSwap DeFi ecosystem.
Learn more about how to buy Shiba Inu.
In addition, they announced that they will soon unveil a stablecoin known as SHI. The stablecoin will have features to prevent it from de-pegging lik Terra UST. It is still unclear when the coin will be launched and how it will be pegged.
Meanwhile, the developers are working on Shibarium. Shibarium is a layer-2 scaling that is expected to be launched in this quarter. Meanwhile, the network has already burned over 271 million coins in the past few days.
Shina Inu price prediction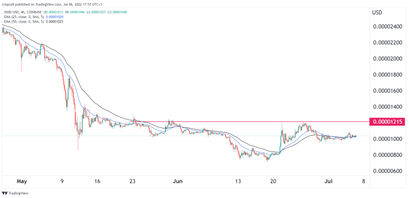 The four-hour chart shows that the SHIB price has been in a tight range in the past few days. The coin remains slightly below the important resistance level at $0.000012. This resistance is important since the coin struggled to move above it in May and June.
Shiba Inu is also oscillating along the 25-day and 50-day moving averages. It also seems like it has formed an inverted head and shoulders pattern. Therefore, while it is too early to tell, there is a likelihood that the coin will soon bounce back. If this happens, the key point to watch will be at $0.000012, which is about 17% above the current level.

Crispus Nyaga
Crispus is a financial analyst with over 9 years in the industry. He covers cryptocurrencies, forex, equities, and commodities for some of the leading brands. He is also a passionate trader who operates his family account. Crispus lives in Nairobi with his wife and son.