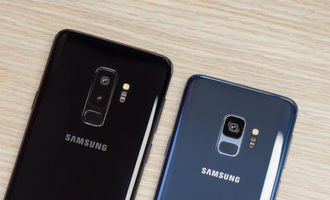 Samsung is Q1 2022's Most Successful Smartphone Vendor Globally, with 73M Shipments

Elizabeth Kerr
Last updated 31st Jan 2023
Samsung and Apple are battling for the top manufacturer slot in the smartphone sector.
The South Korean tech giant currently has the edge over its American counterpart, commanding nearly 24% of the market.
It sold 73 million phones in Q1 2022 despite the global smartphone sector taking an 8.9% dip.
The race for the world's most successful smartphone vendor is on. This race pits South Korean electronic giant Samsung against American tech behemoth Apple. So far, Samsung seems to be winning the battle according to the available market data.
BanklessTimes analyzed different vendors and shares of the global smartphone shipments. It concluded that Samsung shipped 73.6 million (M) smartphones in Q1 2022, the largest volume of any OEM. That was 17M more pieces than its closest challenger Apple. This gave Samsung a global market share of 23.4%.
"Samsung is renowned for creating attractive and innovative products that meet consumer needs," says BanklessTimes CEO Jonathan Merry. He adds. "It has established a leadership position in the smartphone market due to its long-term strategy focusing on low and mid-tier models. In addition, its focus on end-user experience allows it to deliver a wide range of differentiated products generating significant volumes."
How Did Samsung's Competition Fare?
Apple takes the second spot, having sold 56M smartphones. That volume saw Apple's market share stand at 18%, which indicates a 2.2% jump in year-on-year (YOY) change. Additionally, the California-based tech giant was the only OEM in the smartphone sector that registered positive growth.
Chinese manufacturer Xiaomi came in third After Apple. The outfit with Beijing headquarters shipped 39.9M phones in Q1 2022, accounting for nearly 13% of all the global smartphone consignment of that period. That said, the figure represented a roughly 18% dip in Xiaomi's market share based on YOY terms.
Fellow Chinese manufacturers Oppo and Vivo complete the top five smartphone suppliers by volume. Oppo's market share was 8.7% after shipping 27.4M phones, a 27% decline YOY terms. Vivo produced 25.3M devices making up 8.1% of the global market, plunging 28% YOY. Other manufacturers shared 29.1% of the market from their 91.4M shipments.
Global Smartphone Shipments Have Been Declining
According to the International Data Corporation (IDC), global smartphone consignments shrunk 8.9% YOY in Q1 22. That marked the third straight quarter where the smartphone market registered declining shipments. The sector managed about 314M units, roughly 3.5% lower than IDC had projected in February.
IDC's research director Nabila Popal attributes that decline to the current bottlenecks in the supply of key phone-making components. In addition, she says global inflation and economic uncertainties have muted consumer demand and spending, especially in China. That, together with the Russia-Ukraine war, has created uncertainties forcing OEMs to scale down their growth plans in 2022.
On his part, Ryan Reith avers that Samsung and Apple have managed the supply chain challenges better than their competition. That has seen them avoid the dips that other manufacturers have experienced. As a result, he holds that the drop in demand is only temporary and will pick up once the global economy stabilizes.

Elizabeth Kerr
Elizabeth is a financial content specialist from Manchester. Her specialities include cryptocurrency, data analysis and financial regulation.