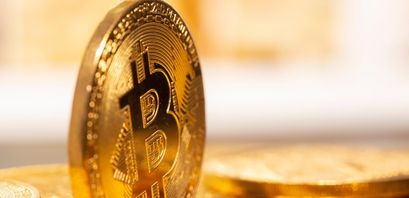 Bitcoin Price Prediction: Weekly Chart Points to a Drop to $30,000

Crispus Nyaga
Last updated 11th Aug 2022
Bitcoin price has been in a strong bearish trend.
The hawkish Federal Reserve has contributed to the crisis.
The weekly chart shows that Bitcoin could fall to about $10,000.
Bitcoin price recovery has stalled. The BTC coin is trading at $20,575, which is a few points below its weekend high of $22,421. This price is substantially higher than the year-to-date high of about $17,500. Its market cap has crashed to about $393 billion.
Bitcoin to $10,000 or to $30,000?
Bitcoin price has been under pressure in the past few weeks as investors worry about a myriad of factors. First, there are increased concerns about the Federal Reserve now that it has pledged to continue tightening its monetary policy.
The Fed has already hiked interest rates three times this year. It first delivered the usual 0.25% rate hike in March and then followed it with a 0.50% increase in May. In June, the bank made a giant 0.75% as inflation remained stubbornly high.
Minutes published last week revealed that most officials believe that more rate hikes are necessary to combat inflation. As such, most of them now believe that a 0.75% rate hike is necessary in July.
Find out more about how to buy Bitcoin anonymously.
The case of higher rate hikes was made on Friday when the US published strong non-farm payrolls (NFP) data. The numbers revealed that the country's unemployment rate remained at 3.6% while the economy added over 372k jobs in June. Therefore, a 0.75% rate hike for July is already baked in.
Bitcoin price tends to do well in periods of easy money policies. Therefore, with the Fed turning increasingly hawkish, there is a likelihood that Bitcoin will continue falling in the near term. This is in line with the popular saying that warns against fighting the Fed.
This explains why most analysts in a recent survey noted that Bitcoin price will likely hit $10,000 first before $30,000.
Bitcoin price prediction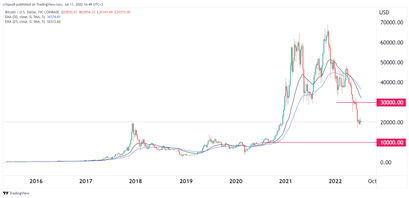 We will look at the weekly chart to estimate whether BTC price will either drop to $10,000 or rise to $30,000. On this chart, we see that Bitcoin tends to find some consolidation whenever it reaches a pivotal point like $30k and $20k.
Further, the coin already formed a double-top pattern, which is usually a bearish sign. It has also moved below the 25-week and 50-week moving averages. Most importantly, it seems like it is forming a bearish pennant pattern.
Therefore, Bitcoin price will likely drop to $10,000 as the Fed maintains a hawkish view. This view will only be invalidated if it moves above the resistance at $25,000.

Crispus Nyaga
Crispus is a financial analyst with over 9 years in the industry. He covers cryptocurrencies, forex, equities, and commodities for some of the leading brands. He is also a passionate trader who operates his family account. Crispus lives in Nairobi with his wife and son.