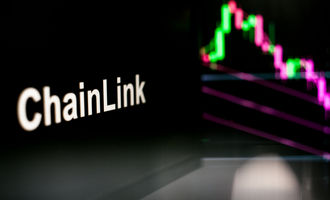 Chainlink Price Prediction as LINK TVS Slides to $14.3 Billion

Crispus Nyaga
Last updated 11th Aug 2022
Chainlink price has been in a strong bearish trend in the past few months.
LINK has crashed by 84% from its November high.
Its total value secured has dropped from $60 billion to $14.3 billion.
Chainlink price has been in a strong bearish trend in the past few months as concerns for the decentralized finance (DeFi) industry have remained. LINK is trading at $6.13, which is about 84% below the highest level in November 2021. Its market cap has dropped to just $2.3 billion, making it the 23rd biggest coin in the world.
DeFi challenges remain
Chainlink is a leading blockchain project that provides oracle services to developers in all industries. It can be used by those building DeFi products and even those in the Non-Fungible Token (NFT) and gaming industries.
Oracles have an important role in the blockchain industry since they help to bring off-chain data to the on-chain. For example, developers can bring data on the stock market to the on-chain environment. Similarly, it is easy to integrate other off-chain data like sports scores and weather to blockchain projects.
Chainlink is mostly used by DeFi developers who rely on its price feeds. Therefore, the performance of the LINK price tends to depend on the performance of the DeFi industry.
Find out more about how to invest in Chainlink.
The past few months have been difficult for both DeFi and Chainlink. The total value locked (TVL) in DeFi has crashed from over $250 billion to the current $73 billion. Most of this decline is mostly because of the collapse of Terra's ecosystem. At its peak, Terra protocols like Anchor Protocol and Astroport had a TVL of over $30 billion.
As a result, Chainlink has seen the total value secured (TVS) in its platform crash from over $60 billion to $14.3 billion. There is a likelihood that the decline will continue as the cryptocurrency industry goes through turmoil.
Recently, we have seen many crypto companies like Celsius, Three Arrows Capital, and Voyager Digital go out of business. At the same time, the oracle industry is getting crowded, with leading competitors being WinkLink, Maker, Band, and Pyth among others.
Find out the long-term Chainlink price forecast for 2022.
Chainlink price prediction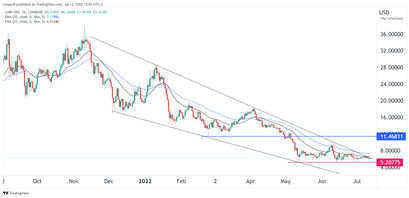 The daily chart shows that the LINK price has been in a strong bearish trend in the past few months. It has also formed a strong support at $5.20, where it has struggled moving below since May. The coin has moved below the 25-day and 50-day moving averages while the Average True Range (ATR) has been falling.
Chainlink has also formed a large falling wedge pattern. Therefore, since this wedge is not close to its confluence level, there is a likelihood that it will continue falling. The next key support will be at $4. In the long-term, LINK will likely have a bullish breakout.

Crispus Nyaga
Crispus is a financial analyst with over 9 years in the industry. He covers cryptocurrencies, forex, equities, and commodities for some of the leading brands. He is also a passionate trader who operates his family account. Crispus lives in Nairobi with his wife and son.