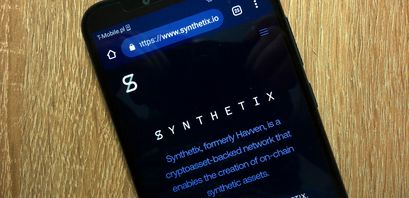 Synthetix Price Prediction: SNX Pops After H1 Report

Crispus Nyaga
Last updated 11th Aug 2022
Synthetix price rose for the second straight day.
Developers released the H1 review and outlook for the rest of the year.
Synthetix price has risen in the past two straight days as investors react to the platform's half year report and future plans. The SNX token rose to a high of $2.72, which is about 80% above the lowest level this month. This recovery has brought the coin's total market cap to about $603 million.
Synthetix half year review report
Synthetix is a leading blockchain project that is in the decentralized finance (DeFi) industry. The platform provides tools that enable developers to incorporate derivatives in their platforms.
A financial derivative is a product that tracks the performance of another real asset. For example, a derivative like sAPPL tracks the performance of Apple shares. There are derivatives of all assets like stocks, commodities, and forex.
SynthetiX Network published its report for the first half of the year. While the SNX token has crashed hard during that period, developers have been hard at work. For example, the network launched Synthetic Perpetual Futures, which allows people to have leveraged long and short positions in Optimism.
Learn more about how to buy Synthetix.
In addition, the developers launched Atomic Swaps, which are exchange functions that allow users to atomically exchange assets by pricing synth exchanges. They combine Chainlink and DEX oracles and allow the trading of assets like sETH and sUSD. The product has already been integrated in 1inch and Curve.
Further, Synthetix Network lmerged debt pools on mainnet and Optimism Ethereum. They also launched Automated SNX claiming in June by collaborating with Gelato.
Looking ahead, the developers hope to launch sUSD bridge and Synthetix perpetual futures version 2. The second version will bring lower trading fees and increase open interest limits.
Still, the Synthetix price will contend with a new normal in the market. Global central banks have hiked interest rates, which could affect the token's price.
Synthetix price prediction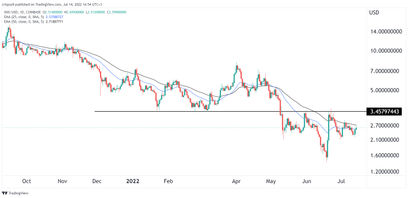 The daily chart shows that the SNX price has been attempting to recover in the past few days. It has jumped by 80% from its lowest point in June. It is now approaching the important resistance at $3.4580, which was the highest point on June 22. It is also attempting to move above the 50-day moving average.
Therefore, the Synthetix Network price will likely continue rising as bulls target the key resistance at $3.45. A move below the support at $2.14 will invalidate the bullish view.

Crispus Nyaga
Crispus is a financial analyst with over 9 years in the industry. He covers cryptocurrencies, forex, equities, and commodities for some of the leading brands. He is also a passionate trader who operates his family account. Crispus lives in Nairobi with his wife and son.