Uniswap Price Has Defied Gravity. Here's a Possible Reason

Crispus Nyaga
Last updated 11th Aug 2022
Uniswap price has made a strong recovery in the past few days.
Investors believe that Uniswap will thrive in the future.
They rember how companies like Amazon and Google thrived after the dot com bubble.
Uniswap price has defied gravity in the past few days as cryptocurrencies crash. The UNI token rose to a high of $6.35, which was the highest level since May 8th of this year. It has a market cap of over $2.8 billion, making it the 27th biggest coin in the world. Other blue-chip DeFi tokens like Aave and Curve have also surged.
Why is Uniswap rising?
Uniswap is a leading player in decentralized finance (DeFi) that was created to act as an alternative for centralized companies like Coinbase and Binance.
Uniswap has grown rapidly in the past few months as demand for decentralized exchanges has risen. It has also helped to inspire the creation of other similar platforms across various smart contract protocols.
For example, the BNB Chain has its PancakeSwap while Cronos has DeFi platforms like VVS Finance and MM Finance among others.
At the same time, Uniswap has expanded its solutions. It has introduced liquidity pools that enable people to earn returns. It has also created the Uniswap protocol where developers can build decentralized applications using its technology. Some of the apps in its ecosystem are Gelato, Sorbet, Brink Trade, and Furucombo,
According to its platform, Uniswap has handled transactions worth over $1.1 trillion. It has over 4,400 community delegates. However, like other centralized exchanges like Coinbase and Binance, the total volume of transactions has declined sharply this year.
It is unclear why the UNI price is rising. One of the possible reasons is that investors believe that the platform will thrive in the future. The analogy is that many competitors will likely not survive the current crypto sell-off.
As such, Uniswap will likely thrive like Amazon and Google thrived after the dot com bubble. This also explains why other large DeFi tokens like Maker and Compound have done well.
Uniswap price prediction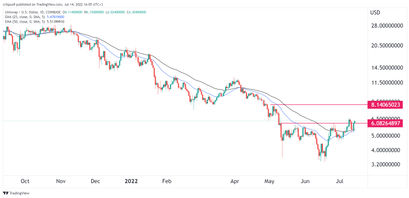 Turning to the daily chart, we see that the UNI price has made a strong recovery in the past few days. Along the way, it has managed to move above the key resistance level at $6. This is a notable level since it is along the neckline of the inverted head and shoulders pattern.
At the same time, the 25-day and 50-day moving averages have made a bullish crossover. Therefore, because of the inverted H&S pattern, there is a likelihood that the coin will continue rising. If this happens, the next key level to watch will be $8.

Crispus Nyaga
Crispus is a financial analyst with over 9 years in the industry. He covers cryptocurrencies, forex, equities, and commodities for some of the leading brands. He is also a passionate trader who operates his family account. Crispus lives in Nairobi with his wife and son.