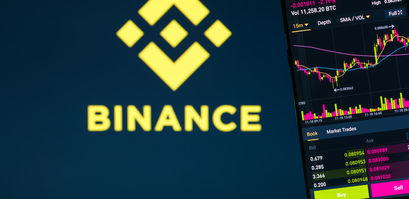 BNB Price Prediction: On Track to Hit $281 Soon

Crispus Nyaga
Last updated 11th Aug 2022
BNB price has been in a strong bullish trend in the past few days.
The number of transactions in BNB jumped to over 25.8 million.
Its DeFi total value locked (TVL) has risen to over $6.4 billion.
The BNB price has made a strong bullish trend in the past few days as investors buy the dip in cryptocurrencies. The highly underrated coin has surged to a high of $261, which was the highest level since June 12th. It has jumped by over 42% from its lowest level in June, bringing its total market cap to over $42 billion.
Why is BNB rising?
BNB is a leading blockchain platform that was created by Binance to help developers build quality decentralized projects. It is a proof-of-stake platform that has better features than Ethereum. Its dApps have significantly faster transaction speed and lower costs.
BNB, which was previously known as Binance Smart Chain, has been embraced widely by developers. DeFi Llama tracks about 20 DeFi applications created using its technology. All these apps have a total value locked (TVL) of over $6.49 billion.
PancakeSwap is the most dominant DeFi app created in BNB. It has a TVL of $2.9 billion, giving it an ecosystem dominance of about 42%. It is followed by Venus, Alpaca Finance, and BiSwap.
There are several reasons why the BNB price is in a recovery mode. First, the rebound is in line with the performance of other cryptocurrencies. For example, Ethereum has surged to about $1,400 while the total market cap of all digital coins has jumped to over $1 trillion. Historically, cryptocurrency prices tend to have a close correlation.
Second, the BNB token price has also risen because of its correlation with American stocks. The Dow Jones rose by more than 600 points on Friday and futures tied to the index have risen by more than 300 points. Similarly, cryptocurrencies tend to have a close correlation with US shares.
Finally, the ecosystem is still vibrant. Last week, the number of transactions in its ecosystem rose by 5.31% to 25.8 million. Further data shows that nearly 40% of all active addresses are on BNB Chain. Most importantly, the developer announced more about the BNB Beacon Chain testnet Godel features.
BNB price forecast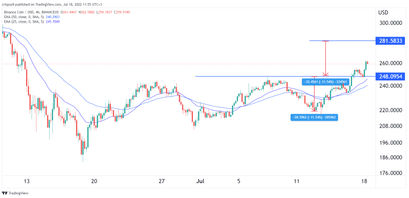 The four-hour chart shows that the BNB price has been in a strong bullish trend in the past few days. It has managed to rise above the important resistance point at $248.10. The coin has even formed a break and retest pattern.
The coin has moved above the 25-day and 50-day moving averages while the Relative Strength Index (RSI) has been rising. Therefore, the outlook for BNB coin is bullish, with the next key level to watch being at $281.

Crispus Nyaga
Crispus is a financial analyst with over 9 years in the industry. He covers cryptocurrencies, forex, equities, and commodities for some of the leading brands. He is also a passionate trader who operates his family account. Crispus lives in Nairobi with his wife and son.