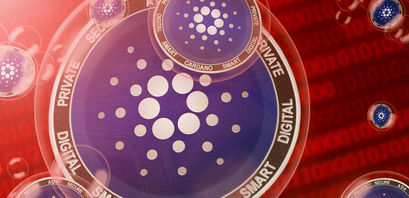 Cardano Price Recovery Accelerates as Bitgert Consolidates

Crispus Nyaga
Last updated 11th Aug 2022
Cardano price has staged a strong rebound in the past few days.
ADA has jumped to the highest point since July 10th.
Bitgert, on the other hand, is still in a consolidation mode.
Cardano and Bitgert prices are attempting to stage a comeback as investors buy the dip in altcoins. The ADA token has surged to a high of $0.4767, which was the highest point since June 10th of this year. BRISE, on the other hand, is trading at $0.00000042, which is about 62% above the lowest level this year.
Altcoins are rebounding
Cardano and Bitgert are blockchain projects that are seeking to become the best alternatives to Ethereum. They are proof-of-stake platforms that have better features than Ethereum. For example, while Ethereum handles less than 30 transactions per second (tps), Cardano can handle over 300. Bitgert can process over 100k tps.
Similarly, Cardano and Bitgert are significantly cheaper than Ethereum. Cardano's platforms process transactions for less than $1 while Bitgert is known for its zero gas fees. Transactions in Ethereum, on the other hand, cost tens of dollars to complete.
Cardano has been around for over 7 years and it began accepting smart contracts in its ecosystem in 2021. Since then, thousands of developers have started building on its ecosystem. According to DeFi Llama, Cardano has about 12 DeFi applications that have a combined TVL of over $123 million.
Learn more on how to buy Cardano.
The biggest apps in Cardano's ecosystem are WingRiders, MinSwap, SundaeSwap, and MuesliSwap among others. In total, Cardano has a total market cap of over $15 billion, which is significantly lower than its all-time high of over $90 billion.
Bitgert, on the other hand, is an extremely tiny blockchain project. Indeed, CoinMarketCap places its market cap at $0 while CoinGecko has a question mark. It has also not been embraced by many developers. The only popular apps in its ecosystem are Knit Finance and Midas NFT Marketplace. BRISE is its native token.
Bitgert price prediction
The four-hour chart shows that the BRISE price has been in a consolidation phase in the past few days. The coin has remained in the narrow range shown in blue. It has also moved slightly above the 25-day and 50-day moving averages while the Average True Range (ATR) has dropped to the lowest level on record.
Therefore, the outlook for Bitgert is neutral with a bearish bias since it seems like it has formed a head and shoulders pattern. If this happens, the next key support level to watch is at $0.00000039.
Cardano price prediction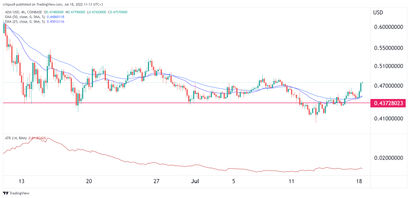 The four-hour chart shows that the ADA price has staged a strong recovery in the past few days. Along the way, it managed to move above the key level at $0.4372, which was the lowest level in June. It has also crossed the 25-day and 50-day moving averages.
Therefore, there is a likelihood that the Cardano price will continue rising as buyers target the key resistance point at $0.500. A drop below the support at $0.45 will invalidate the bullish view.

Crispus Nyaga
Crispus is a financial analyst with over 9 years in the industry. He covers cryptocurrencies, forex, equities, and commodities for some of the leading brands. He is also a passionate trader who operates his family account. Crispus lives in Nairobi with his wife and son.