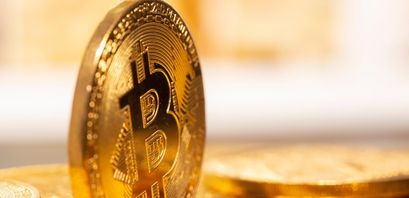 Bitcoin Price Prediction as the Fear and Greed Index Slips Ahead of Fed

Crispus Nyaga
Last updated 5th Aug 2022
Bitcoin price has dropped sharply this week.
The Federal Reserve will deliver its next rate hike on Wednesday.
The fear and greed index remains in the red.
Bitcoin price dropped below the important support at $22,000 for the first time in a week. It dropped to a low of $21,100, which was the lowest level since June 18th.
Investors are still fearful
Bitcoin, Ethereum, and other cryptocurrencies have declined sharply this week as investors wait for the upcoming interest rate decision by the Federal Reserve.
The Federal Open Market Committee (FOMC) will start its monthly meeting on Tuesday and deliver its interest rate decision on Wednesday.
Economists expect that the bank will continue with its hiking cycle in its bid to lower the soaring inflation. Precisely, they expect that the bank will hike by 0.75%, bringing the year-to-date hikes to 225 basis points.
Data published this month revealed that US inflation soared to 9.1% in July, the highest level in more than 4 decades. Excluding the volatile food and energy products, prices rose by above 5%.
Historically, risky assets like Bitcoin and tech companies tend to underperform in a period when interest rates are rising. This explains why the BTC price has dropped by more than 50% this year.
Read our review of the best Bitcoin brokers.
The BTC price also declined sharply as the earnings season continued. On Monday, Walmart warned that the rising cost of doing business was having an impact on its income. As a result, its stock dropped by more than 10% on Tuesday. US indices like the Dow Jones and Nasdaq 100 declined by more than 0.50%. Recently, Bitcoin has had a close correlation with these indices.
Meanwhile, investors remain fearful about the current market conditions. The CNN Money fear and index is at 38, which is a fear zone. Its constituent indices like market momentum, stock price strength, and junk bond demand are all in an extreme fear zone. The Bitcoin fear and greed index is at the fear zone of 28.
Bitcoin price prediction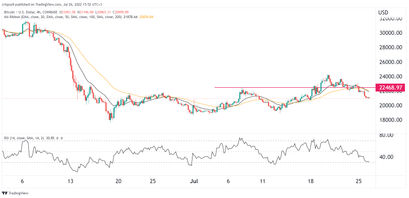 The four-hour chart shows that the BTC price has been in a strong bearish trend in the past few days as investors wait for the upcoming Fed decision. It crossed the important support level at $22,468, which was the highest point on July 7th.
The coin dropped below the 25-day and 50-day moving averages while the Relative Strength Index (RSI) has been in a downward trend. Therefore, the coin will continue falling as sellers target the key support at $20,000.

Crispus Nyaga
Crispus is a financial analyst with over 9 years in the industry. He covers cryptocurrencies, forex, equities, and commodities for some of the leading brands. He is also a passionate trader who operates his family account. Crispus lives in Nairobi with his wife and son.