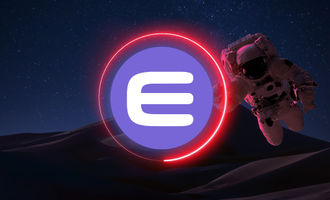 Enjin Coin Price Prediction Amid Headwinds in NFTs

Crispus Nyaga
Last updated 31st Jan 2023
Enjin Coin price has been in a strong bearish trend in the past few months.
There are concerns about the NFT industry as the crypto winter continues.
Enjin Coin price has been stuck close to the lowest level this year as concerns about the non-fungible token (NFT) industry. The ENJ token was trading at $0.6030 on Tuesday, which is about 87% below the highest level in 2021, bringing its market cap to over $549 million.
NFT concerns remain
Enjin is a large blockchain project that focuses on the NFT industry. Its ecosystem is made up of a wallet where you can manage your NFTs and cryptocurrencies, Efinity, marketplace, and JumpNet. Efinity is a platform built n the Polkadot ecosystem that describes itself the blockchain for NFTs.
People can use the platform to build, market, and sell NFTs. Some of its top features are its decentralized governance, a cross-chain bridge, a fuel tank, and a price discovery feature. It is a highly fast network that has an average block time of just 12 seconds.
As a result, Enjin has created a full ecosystem for individuals, businesses, and developers. Individuals can use its ecosystem to buy new NFTs while businesses can use it to launch their NFT solutions. Finally, developers can build NFTs and games using its technology.
Here's how to buy Enjin Coin.
The most recent company to embrace Enjin was Square Enix, a large Japanese game developer. The company will use Enjin's technology to build NFTs tied to its games like Final Fantasy VII.
Sill, Enjin faces significant challenges going ahead as the NFT industry faces major headwinds. After peaking in 2021, the volume of NFTs has been in a strong downward trend in the past few months. Indeed, companies like OpenSea have slashed their workforce.
Analysts believe that the industry will have major challenges recovering in the near term since many people who bought NFTs have made substantial losses. At the same time, Enjin faces the challenge of competition from platforms like Cronos and Theta.
Enjin coin price prediction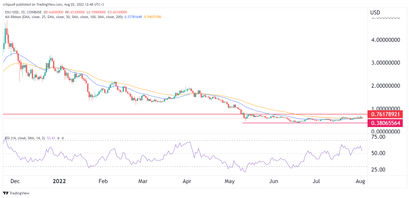 The ENJ price has been in a tight range in the past few days as investors worry about the NFT industry. The coin is trading at $0.60, which is slightly above the year-to-date low of $0.3806. It is consolidating along the 25-day and 50-day moving averages while the Relative Strength Index (RSI) has moved above the neutral point.
Enjin price will likely remain in the important range of between $0.3806 and $0.7618. A move above the resistance at $0.7617 will signal that bulls have prevailed and push it to the resistance at $1.

Crispus Nyaga
Crispus is a financial analyst with over 9 years in the industry. He covers cryptocurrencies, forex, equities, and commodities for some of the leading brands. He is also a passionate trader who operates his family account. Crispus lives in Nairobi with his wife and son.