Solana has been in the headline after this week's hack.
There are also concerns about the DeFi industry as volume slips.
Solana price has struggled this week as investors reflect on a major hack that happened in its ecosystem. It also retreated after a worrying report about the sharp decline in NFT volume. It dropped to a low of $35.35, which was lower than this month's high of almost $50.
Solana hack and outages
Solana is one of the biggest alternatives to Ethereum. It is a well-funded platform that has strong speeds, low gas fees, and more usability. For example, Solana can handle over 2,500 transactions per second (tps) witt the average price of the transaction being less than a dollar.
As a result, Solana has gained significant adoption from both developers and users. Some of the most notable platforms that use Solana are StepN, Solend, and Magic Eden.
Solana price has struggled because of several important reasons. First, an attacker targeted its ecosystem and drained funds from thousands of wallets. In total, the attacker drained accounts from more than 8,000 wallets. The loss is estimated to be worth over $10 million.
The hack brings memories of the regular outages that the platform has. This year, it has gone offline several times, hurting developers and investors. As a result, many potential developers have moved to other alternatives like Avalanche and Cronos.
SOL price has also retreated as investors focus on the ongoing weakness in the NFT industry. Data published this week showed that the volume of sales in July was just $676 million, which was lower than the $6 billion that was recorded in January.
The weakness of the sector was widespread. Notably, Solana's Magic Eden saw volume of just $206 million, down from over $336 million in June. Analysts expect that this trend will continue in the coming months as interest in NFTs fall.
Solana price prediction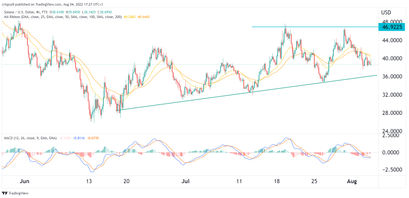 The four-hour chart shows that the SOL price has been in a strong bullish trend in the past few days. Along the way, the coin formed a double-top pattern at around $46. In price action analysis, this pattern is usually a bearish sign.
Now, the 25-day and 50-day moving averages have made a major bearish crossover while the MACD has moved slightly below the neutral point. The pair will likely continue falling as sellers target the lower side of the ascending trendline that is shown in green. A break below the level will signal that sellers have prevailed.
Author Bio

Crispus Nyaga
Crispus is a financial analyst with over 9 years in the industry. He covers cryptocurrencies, forex, equities, and commodities for some of the leading brands. He is also a passionate trader who operates his family account. Crispus lives in Nairobi with his wife and son.