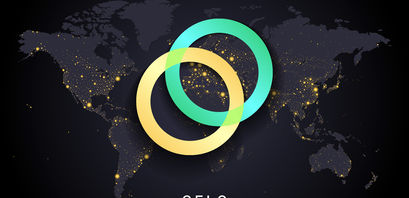 Celo Price Prediction: Is Celo Protocol a Good Buy?

Crispus Nyaga
Last updated 11th Aug 2022
Celo Protocol is a leading blockchain platform for mobile devices.
It runs several stablecoins like cUSD, cREAL, and cEUR.
Celo price recovery has stalled as cryptocurrencies recoil. The token was trading at $1.06 on Friday, which was lower than this month's high of $1.1380. It has risen by over 40% from risen almost 50% from its lowest level this year, bringing its total market cap to over $483 million.
What is Celo Protocol?
Celo Protocol is a relatively small blockchain project that hopes to make it easier for developers to build decentralized finance (DeFi) projects for mobile users. It is a proof-of-stake platform that has full Ethereum Virtual Machine (EVM) compatibility. Other features in its ecosystem are its low gas fees, phone number mapping, cross-chain interoperability, and stable value currencies.
The protocol is powered by several stablecoins like Celo USD, Celo Real, and Celo EUR. Celo USD is an elastic-supply stable value asset that tracks the performance of the US dollar. At the time of writing, Celo dollar (cUSD) had a market cap of over $50 million while Celo Euro (cEUR) had a market cap of $33 million.
Learn more about how to buy Celo.
Celo, which is the native token for the ecosystem, dropped sharply earlier this month after the collapse of Terra USD. This decline happened simply because investors were worried about the performance of most algorithmic stablecoins like cEUR and cUSD. Still, its stablecoins managed to hold on to their peg this year.
Celo has been used to build several popular applications that are compatible with mobile devices. Some of the most popular applications that use Celo are Valora, Celo Wallet, Celo Terminal, Opera, Abra, and Moola.
Celo price prediction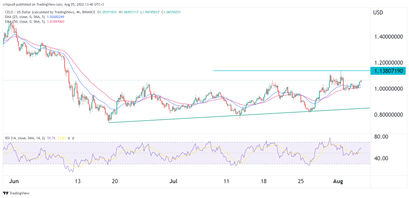 The four-hour chart shows that the Celo Protocol price has been in a strong bullish trend in the past few days. It rose to a high of $1.1380, which was the highest point since June this year. The coin remains above the 25-day and 50-day moving averages.
The Relative Strength Index (RSI) has moved slightly above the neutral point at 50 and is also slightly above the ascending trendline shown in green.
Therefore, the coin will likely keep rising as bulls target the next key resistance level at $1.1380. A move above that resistance will signal that bulls have prevailed. A drop below the important support at $0.9773 will invalidate the bullish view.

Crispus Nyaga
Crispus is a financial analyst with over 9 years in the industry. He covers cryptocurrencies, forex, equities, and commodities for some of the leading brands. He is also a passionate trader who operates his family account. Crispus lives in Nairobi with his wife and son.