EOS price has been in a strong bearish trend in the past few weeks.
It formed a double-top pattern, which is usually a bearish sign.
Antelope faces an uphill battle as competition rises.
EOS price crashed to the lowest level since August 10th even after the network went through its biggest milestone on record. It dropped to a low of $1.600, which was about 38% below the highest level this month. It then bounced back to $1.23, giving it a market cap of more than $1.2 billion.
EOS gains independence
EOS is a leading blockchain project that has had its challenges in the past few years. The main challenge was that it was associated with Block.one, a company that has a questionable history. According to the management of EOS Foundation, Block did not give it the support that it needed to compete with well-capitalized projects like Ethereum, Near Protocol, and Cardano.
Therefore, the community behind EOS decided to transition and separate from Block. This transition concluded this week as EOS declared its independence day from EOS. It did that by having a hard fork and transforming its name from EOS to Antelope.
The developers hope that this independence will see it focus on building the most versatile smart contract platform in the industry. According to the developers, this transition is not just a change of name. Instead, Antelope will have important features like action return values, ability to retrieve from within smart contract the current block number, and a new cryptographic and math functions accessible to smart contracts.
In addition, EOS will now have faster finality, trustless inter-blockchain communication between all Antelope blockchains, and a robust suite of smart contract libraries. Antelope is being supported by Telos, Wax, and UX Network, which are big projects in their own right.
Still, Antelope faces significant challenges ahead. For example, there is significant competition from the likes of the revamped Ethereum and other platforms like Near Protocol, Solana, and BNB Chain.
EOS price prediction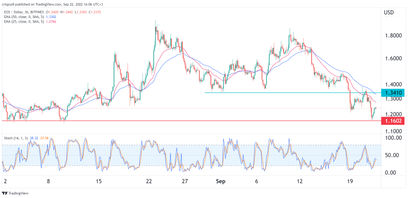 The four-hour chart shows that EOS price has been in a strong bearish trend in the past few weeks. As it dropped, the coin managed to move below the important support level at 1.3410, which was the lowest level on September 1. This price was also the neckline of the double-top pattern.
EOS has moved below the 25-day and 50-day moving averages while the Stochastic Oscillator has moved slightly above the oversold level. Therefore, there is a likelihood that EOS will resume its downward trend as sellers target the support at $1.
Author Bio

Crispus Nyaga
Crispus is a financial analyst with over 9 years in the industry. He covers cryptocurrencies, forex, equities, and commodities for some of the leading brands. He is also a passionate trader who operates his family account. Crispus lives in Nairobi with his wife and son.