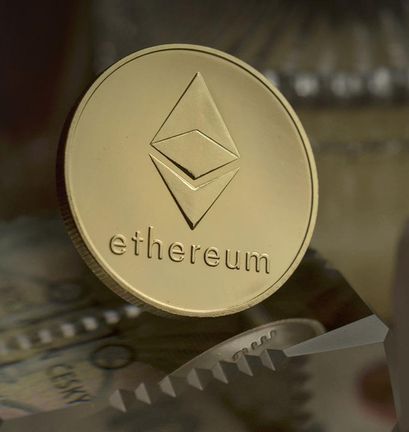 Ethereum Price Prediction: ETH Outlook is Not Looking Good

Crispus Nyaga
Last updated 30th Nov 2022
Ethereum price has struggled after the recent merge.
We explain the four main reasons why this happened.
Ethereum price has moved sideways in the past few days as investors wait for the next catalyst after the Merge. ETH was trading at $1,340 on Friday, which was slightly above this month's low of $1,221. This means that the coin has crashed by more than 64% this year.
Why did Ether's value slump after the merge?
ETH price has struggled in the past few days as investors reflect on the overall success of the Merge. There are several reasons that explain this price action.
First, this performance mirrors that of other cryptocurrencies. For example, a closer look at Bitcoin shows that the coin has remained around $20,000 in the past few weeks. Notably, ETH and BTC have remained stable even as other parts of the market continue struggling. For example, the Dow Jones, S&P 500, and other global indices have all retreated.
Second, Ethereum price has struggled because of regulatory concerns now that it has become a proof-of-stake (PoS) network. In a statement after the merge, Gary Gensler said that regulators were now looking at whether Ethereum had become a security.
A case that Ethereum and other PoS cryptocurrencies like Cardano and Avalanche are securities can be made. For one, these coins have a technology known as staking, where users deposit funds and then earn a return. Still, it is unclear whether the SEC will start cracking down on the coin.
Third, ETH price has struggled because of the risks associated with the new software. For almost a decade, Ethereum was one of the safest blockchain projects, with no major hacks. As a PoS network, there is a likelihood that it could become extremely vulnerable. In the past, we have seen several PoS networks like Avalanche and Harmony lose millions of dollars in hacks.
Finally, a situation known as buying the rumor and selling the news is happening. This is a situation where investors buy an asset ahead of a major event and then exit after it happens.
Ethereum price prediction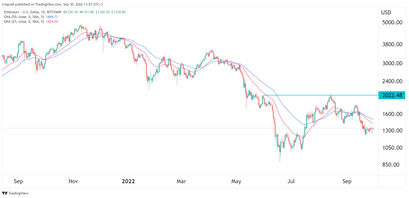 The daily chart shows that Ethereum's price rose to $2,022 ahead of the merge event. Recently, however, the coin has dropped and managed to move below the 25-day and 50-day moving averages. A closer look shows that the coin is forming what looks like a bearish pennant pattern. In technical analysis, this pattern is usually a bearish sign.
Therefore, there is a likelihood that Ethereum price will continue falling as sellers target the next key support level at $1,000.

Crispus Nyaga
Crispus is a financial analyst with over 9 years in the industry. He covers cryptocurrencies, forex, equities, and commodities for some of the leading brands. He is also a passionate trader who operates his family account. Crispus lives in Nairobi with his wife and son.