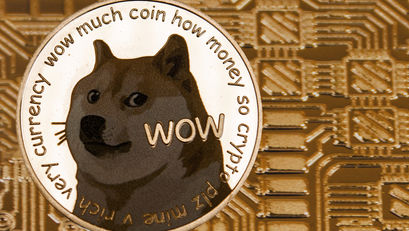 Dogecoin Price Prediction: DOGE is Ripe for a Pullback

Crispus Nyaga
Last updated 15th Dec 2022
Dogecoin price made a strong bullish breakout this month.
The rally was driven by Elon Musk's Twitter buyout.
Dogecoin price has had a strong performance in the past few weeks as investors cheer Elon Musk's acquisition of Twitter. DOGE surged to a high of $0.1515, which was about 175% above the lowest level in October, bringing its market cap to over $15 billion. This makes it the eighth-biggest coin in the world. Other top meme coins like Dogelon Mars, Shiba Inu, Tamadoge and Floki Inu have all rebounded.
Why did DOGE surge?
Dogecoin price went parabolic as one of its biggest supporters acquired the most influential social media company in the world. Elon Musk concluded his Twitter buyout last week. The move cemented him as the biggest investors in some of the leading industries.
Musk owns Tesla, the biggest automaker in the world by market cap. He also owns SpaceX, a company that has become the most important in the space industry. Musk also owns The Boring Company, a firm that seeks to change city travel in the United States.
Dogecoin price rose because Musk, the richest person on earth, has supported it. It is believed that he is one of its biggest holders. As such, investors believe that Musk will introduce Dogecoin as a payment option for Twitter's subscription products he has promised to build.
So, will DOGE rally continue? I believe that investors are getting ahead of themselves. For one, it is unclear whether Musk will introduce Dogecoin payments in Twitter. And if he does, there is a likelihood that it will not become a popular payment option.
There is evidence to support this. Musk introduced Dogecoin as a payment option for Tesla's accessories a few months ago. Since then, it is unclear whether more people are buying these accessories using the coin.
At the same time, there are chances that the excitement of his Twitter buyout will fade in the coming weeks.
Dogecoin price prediction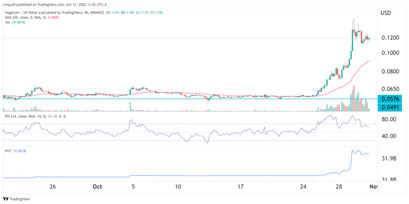 The daily chart shows that the DOGE price has been in a strong bullish trend in the past few days. As a result, the coin has moved above the 25-day and 50-day volume-weighted moving averages. This is a sign that bulls are in control.
A closer look shows that Dogecoin's Relative Strength Index has formed a bearish divergence pattern. At the same time, volume bars have started falling while the price volume trend (PVT) has stalled. Therefore, there is a likelihood that Dogecoin will likely resume the bearish trend in the coming days. If this happens, the next key support to watch will be at $0.10.

Crispus Nyaga
Crispus is a financial analyst with over 9 years in the industry. He covers cryptocurrencies, forex, equities, and commodities for some of the leading brands. He is also a passionate trader who operates his family account. Crispus lives in Nairobi with his wife and son.