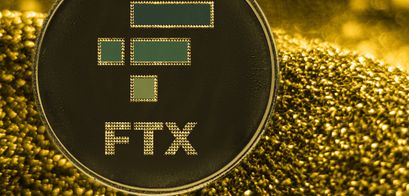 FTX Token Price Prediction: Is it Safe to Buy the FTT Dip?

Crispus Nyaga
Last updated 31st Jan 2023
The FTX Token price plunged to its lowest level since 2020.
FTX is on the brink of collapse as it suffered a bank run.
The FTX token price crashed hard as problems in the parent company continued. FTT plunged to a low of $2.82, which was its lowest level since December 2020. It has plummeted by over 95% from its all-time high, giving it a market cap of over $597 million. In its peak, FTT was valued at over $9.6 billion.
Why is FTT crashing?
FTX made headlines during the weekend after CoinDesk published a report about FTT holders. According to the report, Alameda Research was the biggest investor in the highly-illiquid token.
At the time, there were concerns about the state of the highly secret company that raised billions of dollars from investors. FTX had fashioned itself as the bank of the last resort in the cryptocurrency industry.
The report sent shivers around the world. For one, Binance decided to sell its remaining FTT tokens worth over $500 million. And on Monday, Nexo announced that it had withdrawn over $100 million from FTX.
In the aftermath, FTX suffered a bank run that reminds most investors of the collapse of Lehman Brothers. Historically, only a very few banks have managed to survive when the amount of outflows is much higher than those coming in.
Now, Binance is doing its due diligence on FTX before it makes its determination on whether it is a good company to buy. It is still unclear whether it will continue with the purchase and the amount of money it will be ready to pay.
FTX's crash is notable for two main reasons. First, the company has been acquiring failing crypto companies like Voyager Digital and BlockFi. It is unclear whether Binance will also acquire them. Second, it is unclear how much money investors have lost.
So, what next for the FTX token? As I wrote in my FTT forecast on Monday, there is always a disconnect between centralized exchanges (CEX) and their tokens. For example, VGX price has had some rallies despite the company being bankrupt. Therefore, a bear market rally cannot be ruled out.
FTX Token price prediction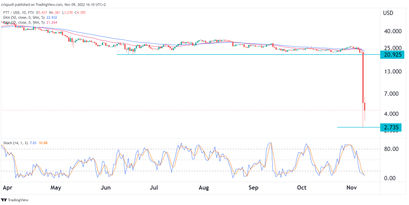 The daily chart shows that the FTT price nosedived on Tuesday as FTX faced a major liquidity crisis. It has crashed below all important psychological levels like $10, $5, and $13. The coin has crashed below all moving averages while the Stochastic Oscillator has moved below the oversold level.
Therefore, the path of the least resistance for the FTX token is downwards, as negative headlines roil the market. If this happens, the next key level to watch will be at $2.73, which is about 36% below the current level.
Still, as mentioned above, we can't rule out a situation where the coin stages a relief rally as people buy the dip.

Crispus Nyaga
Crispus is a financial analyst with over 9 years in the industry. He covers cryptocurrencies, forex, equities, and commodities for some of the leading brands. He is also a passionate trader who operates his family account. Crispus lives in Nairobi with his wife and son.