Dogecoin price has formed a bearish pennant pattern.
Dogecoin is contending with the FTX fallout and the crisis in Twitter.
Dogecoin price moved sideways on Monday as the crypto industry contended with the FTX fallout and the ongoing crisis in Twitter. DOGE/USD price was trading at 0.08523, where it has been in the past few days. The coin remains about 46% below the highest level this month.
Dogecoin hashrate spikes
Dogecoin price has come under intense pressure in the past few days even as the hashrate has made a strong recovery. Data shows that the hashrate was 573 TH/s, which was close to its all-time high of 600 TH/s.
A hashrate is an important measure in the cryptocurrency industry that measures the computational power on a blockchain network. A high hashrate means that the network is significantly healthy than when it is lower.
Still, DOGE price is facing significant challenges. For one, like all cryptocurrencies, it is dealing with the fallout of the happenings on FTX. The company, which was most recently the second-biggest exchange in the world, filed for bankruptcy.
Learn more about how to buy Dogecoin.
As a result, there are lingering worries about contagion risks in the industry. Contagion happens when asset prices crash when a single or multiple entities come under pressure. A good example is when large American banks like Goldman Sachs and JP Morgan struggled following the collapse of Lehman Brothers.
Dogecoin price has also struggled as the unraveling of Twitter continues. In a statement on Friday, Omnicom advised most of its clients to suspend advertising on Twitter. Omnicom is one of the biggest players in the ad business with a market cap of over $15 billion. It serves some of the biggest customers in the world like Apple and McDonalds.
DOGE price recently surged after Elon Musk acquired the company. This was seen as a positive catalyst for the coin since Musk is one of the most influential people in business. He is also a big proponent of the company.
Dogecoin price prediction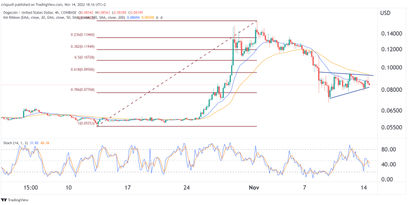 The four-hour chart shows that the DOGE price has been in a downward trend in the past few days. Most recently, it has formed a bearish pennant pattern, which is usually a bearish sign. The coin has moved slightly below the 61.8% Fibonacci Retracement level.
Therefore, there is a high possibility that the Dogecoin price will have a bearish breakout in the near term. If this happens, the next key support level to watch will be at $0.065, which is about 23% below the current level.
Author Bio

Crispus Nyaga
Crispus is a financial analyst with over 9 years in the industry. He covers cryptocurrencies, forex, equities, and commodities for some of the leading brands. He is also a passionate trader who operates his family account. Crispus lives in Nairobi with his wife and son.