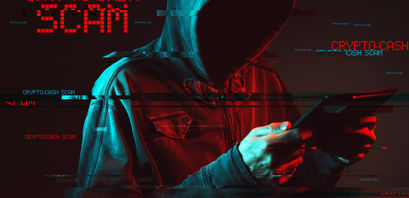 Scams and Fraud Make Up More Than 50% Of All Crypto-Related Complaints in the US

Elizabeth Kerr
Last updated 15th Dec 2022
Scams and Frauds make up more than half of crypto-related complaints.
Criminals are having a field day due to a lack of regulations.
Understanding the warning signs is the best way to avoid falling prey to a crypto scam.
Cryptocurrency has become a popular investment, attracting people looking to exploit unsuspecting investors. Scammers have become increasingly sophisticated in their techniques, making it difficult for the average investor to spot a scam. According to BanklessTimes.com, more than half of crypto-related complaints were related to scams and frauds.
The CEO of BanklessTimes, Jonathan Merry, shared his thoughts on the report:
It's important for investors to educate themselves and be aware of the risks associated with cryptocurrency investments. It's also essential to use reputable exchanges, wallets, and services.

BanklessTimes CEO, Jonathan Merry
Cryptocurrency scams range from malicious software targeting crypto holders to fake ICOs and pyramid schemes. With the lack of regulations in this new industry, criminals have a better chance of getting away with their actions. That is why investors need to stay informed and vigilant when handling cryptocurrency.
Criminals Exploit the Regulations Gap
Criminals are taking advantage of the lack of regulations in the crypto space to operate. Besides, they are diverse in their operations and keep up with security developments. Some may create fake websites and social media accounts.
They may also send out phishing emails or call you and pretend to be customer care from a crypto exchange.
Additionally, they will promise you high returns on your investment. But in reality, they will take your money and disappear.
When it comes to crypto fraud, victims have little recourse when things go wrong. This is because any government or financial institution does not regulate cryptocurrencies. This means no one to turn to if you are scammed or defrauded.
Don't Add to the Statistic, Be Careful
There are a few things that you can do to protect yourself from becoming a victim of crypto fraud. First, do your research. If you're thinking about investing in crypto, make sure you know everything there is to know about it before you hand over any money.
There are also a few red flags to watch out for. If someone promises guaranteed returns or tells you, you can't lose money, that's a major red flag. No investment is ever 100% risk-free, so be wary of anyone who claims otherwise.
Another red flag is if someone is trying to get you to invest in a new cryptocurrency you've never heard of. These investments are often scams, so it's best to steer clear.
If you are thinking of investing in crypto, you should be very careful. Do your research and only invest what you can afford to lose.

Elizabeth Kerr
Elizabeth is a financial content specialist from Manchester. Her specialities include cryptocurrency, data analysis and financial regulation.