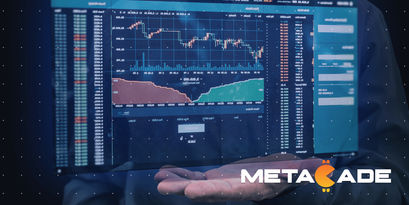 Avalanche (AVAX) keeps falling whilst Metacade (MCADE) presale is attracting new investors

News Desk
Last updated 31st Jan 2023
Avalanche (AVAX) has had a rough 2022 with the price in free fall during the recent bear market. On the other hand, Metacade's MCADE token has been gaining a cult-like following amongst investors in the know.
Given how strong AVAX was looking in the past, this outperformance may be surprising to you, but the past is past. Right now, it looks like Metacade will continue outperforming Avalanche for the foreseeable future. We'll tell you why below.
What is Metacade?
Metacade is Web3's first community metaverse arcade with a whole range of games. It plans to be a virtual destination that gamers can visit to enjoy the most exciting new GameFi and P2E gaming projects while connecting with friends and taking part in a community.
One of Metacade's core principles is creating a gaming community where gamers have a real voice. Part of that is done through decision-making done by users to decide which game ideas get developed and promoted. The platform will even help new Web3 gaming projects get on their feet with Metagrant initiatives that provide funding for the best ideas from community members and creators.
On top of its innovations in P2E gaming, Metacade is also establishing itself as an emerging leader in the Web3 employment sector. It will also host the latest job postings in the GameFi sector, as well as the wider Web3 world, to attract aspiring entrepreneurs and job-seekers.
When you put it all together, you get a cultural destination that has the potential to stand out as one of the go-to spots to access the best of everything that Web3 has to offer.
What is Avalanche?
Avalanche (AVAX) is a layer-1 smart contract platform that's currently a competitor to Ethereum. It uses subnets to scale, which allows projects to deploy lightning-fast contracts without sacrificing security. Avalanche also had some of the best performance of any crypto project in the last bull market. However, that momentum has reversed pretty hard in the recent market headwinds.
Why Does AVAX Keep falling?
Avalanche's AVAX token has gone down nearly 90% from its all-time high of $146. And every time it seems to regain some momentum, the growth ends up reversing, and the token manages to find new lows.
Some of this turbulence can be attributed to overall crypto market conditions deteriorating. Global macroeconomic forces have created a recent bear market and that pain is being felt across the board. But even when the bull market returns, AVAX might never make new all-time highs again.
This is because Avalanche was created to beat Ethereum on transaction speed and cost. However, Ethereum's latest upgrade and the emergence of layer-2s have essentially solved these issues, which makes Avalanche less relevant.
The bottom line is that the unique selling points that Avalanche had, which allowed it to dominate the last bull market, don't really exist anymore. That means that investment in AVAX is likely not the best choice moving forward.
Metacade will be more successful than Avalanche - Here's why
While Avalanche is struggling with its best days behind it, Metacade is just getting started. It has a ton of potential for each of the following reasons.
Gaming for Everyone
The Metacade platform lets you play however you want - that can be competing against the best to climb leaderboards or casually gaming while you hang out with friends. Visitors can play to earn or play for fun. The choice is always in the players' hands.
Community-Centric
Metacade's tokenomics are designed to benefit the community instead of venture capitalists. Community members are being given access to the earliest stages of the presale and there were no earlier sales to VC funds. This community aspect ensures that Metacade isn't a flash-in-the-pan investment, but that the platform has real longevity and plenty of room to grow.
Many Games, One Metacade
Other GameFi projects rely on people wanting to play a single game. Metacade is something totally different. It provides access to a wide variety of gaming opportunities with an array of titles. This gives it a broader appeal for a whole range of gamers. It also gives Metacade more stability since it won't suddenly fold if a single game loses popularity.
Metagrants
Metacade is committed to helping community members thrive. That's why the team will be launching a Metagrant initiative to provide funding to creators and game developers who need it to bring their ideas to life. These are voted on by the players so the games that go into development are what gamers really want.
Just Getting Started
It's also important to note that Metacade is just getting started. Its market cap is still relatively low, whereas Avalanche already has a multi-billion dollar market cap. That leaves much more upside potential for Metacade.
Metacade is without of doubt the better investment opportunity
When you consider the upside potential of Metacade's MCADE token with the questions surrounding Avalanche, the choice is simple. While AVAX could continue to struggle, Metacade is poised to emerge as one of the very best investment opportunities of 2023 and beyond. The platform has a long-term plan, fills a specific niche, offers something different, and empowers gamers.
Ready to get started?
You can participate in the Metacade pre-sale here.
Disclaimer: Insights provided by crypto industry players and is not a part of the editorial content of BanklessTimes.