Shiba Inu price has been in a tight range recently.
The number of SHIB holders has crashed to about 1.2 million.
Shiba Inu price has been in a consolidation phase in the past few days as focus remains on the FTX challenges and monetary policy. SHIB was trading at $0.0000093, where it has been since last week. The coin has plunged by more than 89% from its all-time high, giving it a market cap of over $5 billion.
Is SHIB a good buy now?
Shiba Inu price has collapsed as interest in its ecosystem has waned. A close look at Google shows that the number of searches has been on a downward trend recently. The same is true with the number of social media mentions.
Meanwhile, Shiba Inu's ecosystem has seen a significant outflow in the past few months. Like other popular chains like Ethereum and Solana, ShibaSwap has seen its TVL plunge from over $150 million to just $19.6 million. Shiba Inu's metaverse has seen little activity as well.
Shiba Inu price has also collapsed because of the ongoing concerns about the crypto market as liquidity dries up. This situation happened as investors focused on the collapse of FTX and Alameda Research among other companies.
In the past few months, most centralized crypto exchanges have seen the number of users has declined sharply. For example, companies like Coinbase has seen its revenue and profitability crash this year.
Find out how to buy Shiba Inu.
The number of Shiba Inu holders has dropped to 1.25 million. According to Etherscan, SHIB had over 1.28 million holders on November 22.
SHIB price has also collapsed because of the strong economic data from the United States. On Friday, data showed that the American economy added over 283k jobs in November while the unemployment rate remained at 3.7%.
Additional data revealed that the services PMI rose slightly in November. Therefore, analysts expect that the Federal Reserve will hold rates high for a while.
Shiba Inu price forecast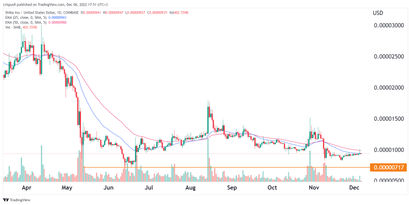 The daily chart shows that the SHIB price has been in a downward trend in the past few months. It has managed to move below all moving averages. Shiba Inu has also formed a head and shoulders pattern, which is a bearish signal.
The token has seen the daily volume decline sharply in the past few weeks. It has also formed a bearish flag pattern. Therefore, the coin will likely have a bearish breakout. If this happens, the next key level to watch will be at $0.0000071, which was the lowest level this year.
Author Bio

Crispus Nyaga
Crispus is a financial analyst with over 9 years in the industry. He covers cryptocurrencies, forex, equities, and commodities for some of the leading brands. He is also a passionate trader who operates his family account. Crispus lives in Nairobi with his wife and son.