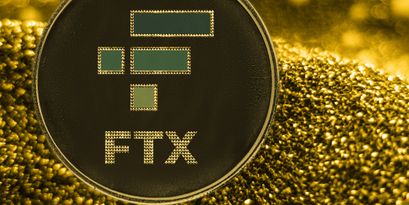 FTX Token Price Soared: Beware of Low FTT Volume Risks

Crispus Nyaga
Last updated 31st Jan 2023
FTX Token price went vertical on Friday.
Sam Bankman-Fried faces many years in prison.
FTT's volume has been in a downward trend.
FTX Token price went vertical on Friday despite the ongoing Sam Bankman-Fried legal situation. The FTT token soared to a high of $1.961, which was the highest level since November 21. It has risen by more than 40% from the lowest level this year.
Sam Bankman-Fried in a legal limbo
FTX Token went parabolic as more revelations about FTX continued. When making media rounds, Sam Bankman-Fried (SBF) has made it clear, unwittingly, that FTX and Alameda committed crimes.
The most visible crime is that FTX commingled customer funds with those of FTX. In other words, when customers made deposits in FTX, the company took some of those funds and deposited them in Alameda.
That is wrong since FTX's terms and conditions clearly said that such a situation would not happen. Further, it is also wrong because it appears that SBF used these funds to buy companies, launch marketing deals, and donate to politicians.
It has also become clear that FTX customers will not be made whole in the ongoing bankruptcy proceedings. The company needs more than $8 billion while the available liquidity is much less than that.
Therefore, the FTX Token price did not rise because of fundamentals. Instead, it is likely a pump-and-dump scheme because it is one of the thinnest and most illiquid tokens in the industry.
This price action was expected. As I wrote in this report, there is always a disconnect between a crypto token price and the parent company's fundamentals. For example, recently, we have seen Voyager Digital Token (VGX) rise even though the company filed for bankruptcy. Therefore, I suspect that the token will continue showing more volatility as the bankruptcy proceedings continue.
The FTT price also rose because of the general comeback of the crypto industry. Bitcoin rose modestly to $17,168 while Ethereum jumped to $1,275.
FTX Token price prediction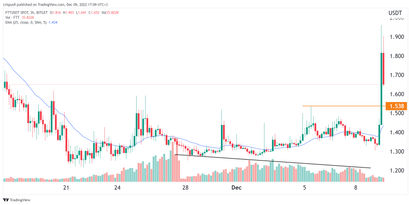 The three-hour chart shows that the FTT price went parabolic on Friday. It rose to a high of $1.95, which was the highest level in two weeks. As it rose, it managed to move above the important resistance level at $1.53, the highest level on December 5.
It also moved above the 25-day and 50-day moving averages while the volume trend has been crashing. Therefore, I suspect that the FTX Token price will resume the bearish trend and move below $1.50.

Crispus Nyaga
Crispus is a financial analyst with over 9 years in the industry. He covers cryptocurrencies, forex, equities, and commodities for some of the leading brands. He is also a passionate trader who operates his family account. Crispus lives in Nairobi with his wife and son.