Huobi Token price has been in a freefall in the past few weeks.
There are concerns about the coin's utility.
Huobi has seen significant outflows in the past few weeks.
Huobi Token price plunged to a low of $4.30, the lowest level since November 21 last year. It has slumped by more than 80% in the past 12 months as concerns about centralized exchange tokens rise. It still has a market cap of more than $753 million, making it the 47th biggest token in the world. So, is Huobi safe and is HT a good buy?
Huobi outflows rise
Centralized Exchanges (CEX) have come under intense pressure in the past few months. Voyager Digital, the Canadian exchange, went bankrupt. It was recently acquired out of bankruptcy by Binance US. FTX, the second-biggest exchange in the world, went burst and its founder, SBF, faces tens of years in prison.
Other exchanges like Gemini are on life support. Coinbase stock price has crashed by more than 85% in the past 12 months. Others like Gate.io and OKX have announced mass layoffs. A report published on Friday showed that Huobi was also laying off staff and starting to pay the remaining ones in stablecoins.
Exchanges have had billions of outflows in the past few months. Data compiled by DeFi Llama showed that the exchange recorded outflows of $90 million in the past 24 hours Users have withdrawn over $115 million in the past 30 days.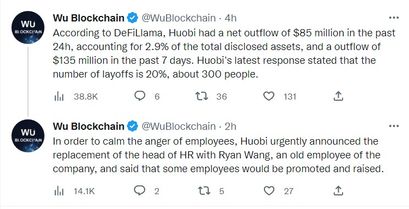 Read our review of the best crypto exchange.
Huobi Token has plunged after the collapse of FTX. A main reason, as I wrote before, is on how to value centralized exchange tokens. Like FTX Token, Huobi Token does not have a use or utility other than providing discounts to users.
Also, there is a major disconnect between how these tokens are valued. Despite its collapse, FTX Token is still valued at more than $298 million. Similarly, Celsius Token is valued at over $121 million.
Another reason you should avoid Huobi Token is its association with Justin Sun, the founder of Tron. Analysts believe that Sun owns a significant number of HT tokens as part of his role as the company's advisor. Further, it is a centralized token that is controlled by Huobi.
Huobi Token price prediction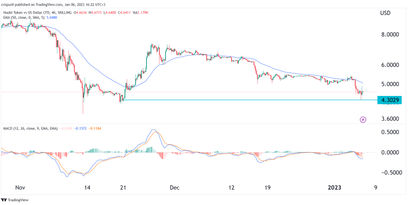 The four-hour chart shows that the HT price has been in a downward trend in the past few weeks. This is in line with what I warned a few weeks ago. The token plunged to a low of $4.30, the lowest level on November 21. It has moved below all moving averages while the MACD moved below the neutral point. Therefore, the token will likely continue falling as sellers target the next key support at $3.
Author Bio

Crispus Nyaga
Crispus is a financial analyst with over 9 years in the industry. He covers cryptocurrencies, forex, equities, and commodities for some of the leading brands. He is also a passionate trader who operates his family account. Crispus lives in Nairobi with his wife and son.