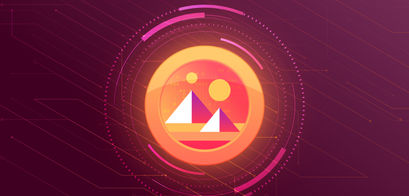 MANA Price Has Surged but Decentraland Concerns Remain

Crispus Nyaga
Last updated 16th Jan 2023
Decentraland is a pioneer metaverse and NFT platform.
MANA price has surged by more than 145% from its lowest point in 2022.
Decentraland's MANA price has been in a remarkable comeback as cryptocurrencies rebound. MANA has surged to a high of $0.7286, the highest level since November 22. It has surged by more than 145% from the lowest level in 2022. As a result, its total market cap has surged to over $1.2 billion, making it the 39th biggest coin in the world.
Why is Decentraland soaring?
Decentraland price has surged for several reasons. First, this rebound is part of the growth of metaverse tokens. For example, The Sandbox price has risen by more than 86% from the lowest point in 2022. Similarly, Axie Infinity and Gala token have risen by over 50% in the past few weeks. Historically, cryptocurrencies in the same industry tends to move in the same direction.
Second, MANA price has rallied because of the recent economic data from the United States. Data published last week showed that America's inflation has continued easing in the past few months. According to the Bureau of Labor Statistics (BLS), the American consumer price index (CPI) crashed from a peak of 9.1% in 2022 to 6.5% in December. And analysts believe that the US could see deflation in the next few months.
Find out how to buy Decentraland.
Therefore, analysts believe that the Fed will need to start shifting its tone on interest rates in the coming months. The base case is that the bank will hike interest rates by 0.50% in February followed by 0.25% in March. This also explains why other cryptocurrency prices have surged.
Still, fundamentally, there are concerns about Decentraland's usage. Recent numbers have shown that the platform has just a few daily and monthly users. According to DappRadar, the total number of unique active wallets in the past 30 days was just 5.8k people. The total value of assets in its ecosystem was about $27 million.
MANA price prediction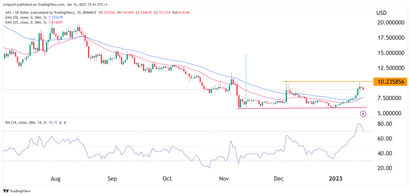 The daily chart shows that Decentraland has been in a slow bullish trend in the past few weeks. It has managed to move above the 25-day and 50-day moving averages while the Relative Strength Index (RSI) has moved above the overbought level. It has also moved slightly below the important resistance point at $10.23.
Therefore, I suspect that the MANA price will continue rising as buyers target the next key resistance point at $12.5, which is about 40% above the current level. A drop below the support at $7.50 will invalidate the bullish view.

Crispus Nyaga
Crispus is a financial analyst with over 9 years in the industry. He covers cryptocurrencies, forex, equities, and commodities for some of the leading brands. He is also a passionate trader who operates his family account. Crispus lives in Nairobi with his wife and son.