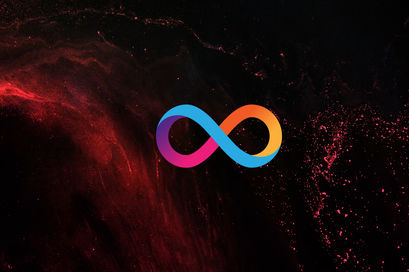 Internet Computer Stages a 59% Comeback: What Next for ICP?

Crispus Nyaga
Last updated 31st Jan 2023
ICP price has surged by more than 60% from its lowest level in 2022.
There are lingering concerns about Internet Computer's ecosystem.
Internet Computer price has not been left behind in the ongoing cryptocurrency rally. ICP, the network's token, surged to a high of $5.57, which was the highest point since November 6. It has jumped by over 59% from the lowest level in 2022.
Ecosystem challenges remain
Internet Computer is a blockchain project that was created by Dfinity, a Swiss-based non-profit organization. It is a well-funded organisation that hopes to change how developers build applications.
It describes itself as a world computer that can host programs and data in the form of smart contracts, perform computations, and scale infinitely. Its smart contracts are known as canisters and are hosted in subnets. A subnet is an independent blockchain that runs nodes that are distributed globally. Each subnet can store thousands of canisters.
Internet Computer believes that its technology is more advanced than sharding, which powers well-known blockchains like Polkadot, Zilliqa, and Near Protocol. That is because it allows smart contracts on different canisters to communicate with each other. ICP is the utility token that powers the ecosystem.
Find out how to invest in Internet Computer.
The success of an infrastructure blockchain like Internet Computer is measured by its ecosystem. This is where the challenge comes in. A look at its ecosystem shows numerous applications in industries like social media, non-fungible tokens (NFT), metaverse, DeFi, and games among others.
Internet Computer's website features 75 of these projects. DSVR is a decentralized version of Reddit while Kontribute is a web3 project in the digital art and NFT industry. Other apps featured are Kinic (search engine), Infinity Swap (DeFi), and Windows IC. Windows IC is an operating system that allows anyone to access programs in any computer.
The challenge is that most of these apps are yet to go mainstream. A quick look at their statistics shows that very little is going on there. This means that Internet Computer has a scalability problem if it needs to compete with bigwigs like Ethereum and BNB Chain.
Internet Computer price prediction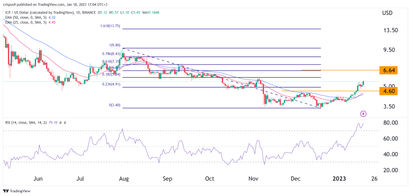 Turning to the daily chart, we see that the ICP price has been in a strong bullish trend in the past few days. Along the way, it has managed to move above the 23.6% Fibonacci Retracement level and is approaching the 38.2% point. It has also moved above the 25-day and 50-day moving averages while the Relative Strength Index (RSI) has moved to the overbought point.
Therefore, I suspect that the coin will continue rising as buyers target the key resistance point at $6.65. This price is along the 50% Fibonacci Retracement level. A drop below the support at $5 will invalidate the bullish view.

Crispus Nyaga
Crispus is a financial analyst with over 9 years in the industry. He covers cryptocurrencies, forex, equities, and commodities for some of the leading brands. He is also a passionate trader who operates his family account. Crispus lives in Nairobi with his wife and son.