Most emerging and frontier market currencies are plunging.
The Zimbabwe dollar, Nigerian naira, and Pakistan rupee have plunged.
The same is true for currencies in Lebanon, South Africa, and Turkey.
Emerging market currencies are becoming worthless at the fastest pace in modern times. The Zimbabwe dollar is crashing for the second time even after the government launched a gold-backed token. It is not alone as other emerging and frontier market currencies are plunging as well. So, are cryptocurrencies like Bitcoin and Tether the answer?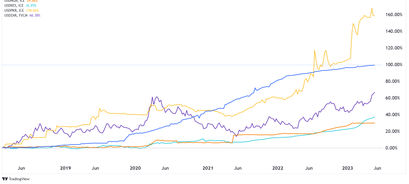 Emerging market currencies are crashing
A look at most emerging market currencies shows that most of them have been in a downward spiral. In Lebaanon, the currency has lost all its value as inflation has surged to more than 400%. The ancient barter trade is taking over some parts of the collapsed economy.
Meanwhile, in Turkey, the lira has plunged to a record low of 20. In all. The USD/TRY has soared by more than 800k% since 1990. This means that people who had their savings in lira have seen their purchasing power plunge. In the past 12 months alone, the currency has dropped by almost 25%.
Meanwhile, in Argentina, a major powerhouse in South America, the peso has plunged by more than 100% in the past 12 months. As a result, Argentinian savers have seen the value of their assets drop by 100%. Inflation has jumped to historical levels.
In Pakistan, the rupee has fallen by 45% as the country continues deliberating with the IMF for a bailout. The currency has lost over 150% of its value in the past 5 years. The Indian rupee has not been spared either since the rupee has fallen by 25% in the past five years.
The Zimbabwe dollar, South African rand, Kenya shilling and the Nigerian naira are all trading at their lowest level in yars. Other currencies that are on a path to becme worthless are the Egytian pound, and the Ethiopian birr.
Is crypto the solution?
A common view among people interested in cryptocurrencies is that digital coins that cannot be manipulated by central banks are the solution. In that regard, we have seen several countries embrace cryptocurrencies and CBDCs.
However, I believe that cryptocurrencies like Bitcoin and Ethereum are not alternatives for now. There are two main reasons for this. First, these cryptocurrencies are highly volatile, as evidenced by Bitcoin's crash from $67,000 to the current $27,000.
Second, these cryptocurrencies are highly expensive, with the average BTC transaction cost being $11 per transafer.
A likely solution would be stablecoins that are pegged on the US dollar. The challenge with this is that these stablecoins are highly centralized and are relatively difficult to use by most people. Therefore, these countries face an uphill battle finding a good solution as their currencies plunge.
Author Bio

Crispus Nyaga
Crispus is a financial analyst with over 9 years in the industry. He covers cryptocurrencies, forex, equities, and commodities for some of the leading brands. He is also a passionate trader who operates his family account. Crispus lives in Nairobi with his wife and son.