IOTA has made a strong 14% rebound in the past few days.
The co-founder held a talk with UAE's Minister of Trade.
Shimmer's EVM testnet is doing well as transactions rise.
IOTA price has made a slow recovery in the past few days as the network regains momentum. After falling to a low of $0.17 earlier this month, the coin has jumped by more than 14% to the current $0.20. This makes it one of the best-performing blue-chip cryptocurrencies in the industry.
Why is MIOTA soaring?
There are three likely reasons why IOTA price is soaring. First, the Shimmer EVM testnet is going on well. Data available in its explorer shows that the number of active users in the testnet and the overall volume in the ecosystem has grown rapidly in the past few days. In all, the number of total active addresses in Shimmer has jumped to over 247k in the past few months.
And earlier this week, the developers reported that TangleSwap DEX had won the Treasures of Shimmer testnet campaign. The other winners were ShimmerSea and ApeDAO.
Read more: How to buy IOTA.
Shimmer is an important part of the IOTA ecosystem since it will form the basis of dApps development in the future. It has faster speeds, lower costs, and will be EVM compatible, meaning that dApps in the ecosystem will be able to communicate with Ethereum.
IOTA is also jumping after its founder, Dominik Schiener, held a conversation with Thani Al Zeyoudi, the minister of foreign trade in the United Arab Emirates (UAE), a cash-rich country. The minister said that the conversation was about the role that IOTA can play in the economy. It is still unclear whether any deal will materialize from the conversation.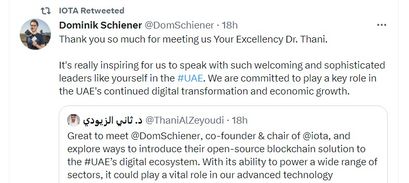 IOTA price prediction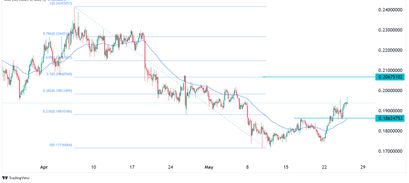 The 4H chart shows that IOTA crypto price has been in a strong bullish trend in the past few days. It has managed to move above the key resistance point at $0.18, the highest level on May 17. The coin has managed to move above the 23.6% Fibonacci Retracement level. Also, it is being supported by the 50-period moving average.
Therefore, there is a likelihood that the MIOTA token will continue rising as buyers target the key resistance point at $0.2067, which is the 50% Fibonacci Retracement level. A drop below the support at $0.18 will invalidate the bullish view.
Author Bio

Crispus Nyaga
Crispus is a financial analyst with over 9 years in the industry. He covers cryptocurrencies, forex, equities, and commodities for some of the leading brands. He is also a passionate trader who operates his family account. Crispus lives in Nairobi with his wife and son.