Tron has outperformed Bitcoin and other blue-chip coins by far this month.
Tron is the second most profitable blockchain after Ethereum.
The biggest risk of Tron is the significant power than Justin Sun has in the ecosystem.
Tron price has moved sideways in the past few days as the recent momentum fades. TRX pulled back to a low of $0.0771, a few points below the highest level this week. In all, Tron has been the best-performing major cryptocurrency, having jumped by more than 21% from the lowest level this month.
Catalysts for Tron
Tron, founded by Justin Sun, has grown to become one of the biggest cryptocurrencies in the world with a market cap of over $6.9 billion. It has attained a strong market share in key industries, especially in decentralized finance, one of the biggest industries in the sector.
Data compiled by DeFi Llama shows that Tron has just 22 DeFi dApps in its ecosystem compared to Ethereum's 800 and BNB Chain's 603. Despite this, the network has a total value locked (TVL) of more than $5.69 billion. The most popular DeFi dApps in the ecosystem are JustLend, JustStables, SUN, and UniFi Staking among others.
Tron also has more holders than most blockchains. For example, it has more than 2.3 million active users compared to Ethereum's 325k and BNB Chain's 1.18 billion.
Other metrics are also supportive of Tron. For example, the volume of stablecoins in its ecosystem are valued at over $45 billion, which is bigger than the $5.86 billion that are in BNB Chain.
Read more: How to buy Tron.
All this has translated to higher revenue for Tron. Data compiled by TokenTerminal shows that Tron is the second most profitable platform in the blockchain industry. Its revenue in the past 365 days came in at $536 million, second only after Ethereum, which made over $1.6 billion. The same trend has continued in the past 30 days when Tron made $88 million with Ethereum making $377 million.
The biggest risk for investing in Tron is that Justin Sun, its founder has a lot of say in the network. When one unobscure person has too much power, it could pose some substantial risks, as we saw with Terra's Do Kwon and FTX's Sam Bankman-Fried.
Tron price prediction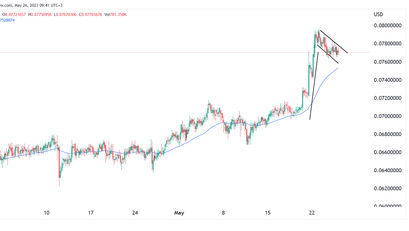 The daily chart shows that the TRX price has been in a strong bullish trend in the past few months. The last part of the rally is notable since it happened when most blue-chip coins were in the red. Tron remains above the 50-day moving average.
It has also formed a bullish flag pattern, which is usually a bullish sign. Therefore, there is a likelihood that Tron price will have a bullish breakout in the coming days. If this happens, Tron could bounce back and surge to $0.10, which is about 30% above the current level.
Author Bio

Crispus Nyaga
Crispus is a financial analyst with over 9 years in the industry. He covers cryptocurrencies, forex, equities, and commodities for some of the leading brands. He is also a passionate trader who operates his family account. Crispus lives in Nairobi with his wife and son.