We are aware of numerous websites which use false celebrity endorsements to send customers to unregulated brokers or call centres. Our website will only send customers to partners who have provided us with regulatory assurances. This is a marketing offer and we do not work with the service mentioned directly, our partners will indicate what services they have available upon registration.
What is Bitalpha AI?
BitAlpha AI is a Bitcoin automated trading platform specifically tailored to combine traditional cryptocurrency trading techniques with modern methods. This crypto robot offers some interesting features that can cater to every user's trading needs, whether you are a newbie or experienced.
For instance, BitAlpha AI claims that its trading bot is powered by artificial intelligence technology that applies algorithms and trading signals to manage crypto trades. It is also customizable and offers superior strategies, which we will discuss later in this guide. So, if you are new to cryptocurrency trading, BitAlpha AI welcomes you to try it out using its demo account.
Using BitAlpha AI to automate your crypto trades can help in eliminating emotional trading, thus allowing you to see the bigger picture. The robot is reportedly designed to crawl the cryptocurrency market, for identifying profitable trends so that you can make a strategic entry in a trade and make a profitable exit.
Visit site and sign up
Bitalpha AI Overview
| | |
| --- | --- |
| 🤖 Robot Type: | Bitcoin Trading Robot |
| 💸 Minimum Deposit: | $250 |
| 🚀 Claimed Win Rate: | Unverified claimed win rate |
| 💰 Trading Fees: | None |
| 💰 Account Fees: | None |
| 💰 Deposit/Withdrawal Fees: | None |
| 💰 Software cost: | $0 |
| ⌛ Withdrawal Timeframe: | Within 24 hours |
| #️⃣ Number of Cryptocurrencies Supported: | 20+ |
| 💱 Supported Cryptocurrencies: | BTC, ETH, XRP, LTC, LTE, BCH and more |
| 💲 Supported Fiats: | USD, EUR, GBP and more |
| 📊 Leverage: | 1000:1 |
| 📱 Native Mobile App: | No |
| 🖥️ Free Demo Account: | Yes |
| 🎧 Customer Support: | Contact Form, Email & Live Chat |
| ✅ Verification required: | KYC |
| 🔁 Automated Trading: | Yes |
| 📈 CFD Available | Yes |
Bitalpha AI Pros and Cons
Visit and sign up now
Who Is the Bitalpha AI Owner?
BitAlpha AI is supposedly owned by a group of professional traders with decades of experience in the cryptocurrency market. It is believed that the team comprises expert software developers to ensure the robot is backed with robust technology, making it easier for users to benefit from the highly dynamic cryptocurrency market.
The crypto market is unpredictable, and you probably must be wondering about BitAlpha AI's efficiency. This robot's owners ensure it is updated based on current market conditions to maximize your potential. Plus, BitAlpha owners have claimed that the robot is integrated with regulated brokers for maximum security. The team also extends a guarantee of your data and email safety to prevent unauthorized access.
Getting Started With Bitalpha AI Platform
There are a few simple steps to becoming a BitAlpha AI member and kickstart your automated trading activities. The robot is user-friendly, and you do not need cryptocurrency trading experience to use it. Here is a brief overview of getting started with BitAlpha AI.
You need to set up an account from the official Bitalpha AI website to start trading. Since the robot partners with regulated brokers, it is also important to ensure that the broker you select is compatible with all your trading requirements.

Once you register for an account, you will be contacted by one of the representatives from the customer support team for more clarifications regarding the bot's operations.

Minimum deposit at least $250, and start trading and testing BitAlpha AI using the demo trading account.

Activate BitAlpha AI and start trading
Bitalpha AI Markets, Assets, and Options
What cryptocurrencies and products can you trade using BitAlpha AI platform?
BitAlpha AI supports a diverse range of cryptocurrencies. From the largest cap crypto- Bitcoin to a smart contract-based coin like Ethereum and meme coin like Shiba Inu, you will have a lot of diversity and an opportunity to diversify your portfolio.
Apart from Bitcoin (BTC), here are some of the most popular digital assets to trade using BitAlpha AI trading platform.
Ethereum (ETH)

Litecoin (LTC)

Ripple (XRP)
BitAlpha AI allows you to purchase all supported cryptocurrencies using credit cards, debit cards and bank transfer. This means that you should be able to transact using various fiat currencies, including USD, GBP, EUR, etc. We advise you to refer to the official BitAlpha AI website and confirm supported fiat currencies for effective transactions.
What leverage trading options are there?
BitAlpha AI offers leverage trading of up to 1000:1 on CFD assets. This allows you to earn higher profits with small capital. While leverage trading can be beneficial, it can also result in massive losses if you are not careful. That is why users should only apply leverage if they understand all the risks that come with it.
If you want to know more about leveraged trading, take a look at our guides:
What are the spreads?
BitAlpha AI is transparent with its charges. The robot is free for usage, and you do not need to worry about spreads or other fees, whether commissions, transaction costs, or subscription charges. Simply deposit the minimum threshold amount of $250 to start trading.
Fees, Limits, and Payment Options on Bitalpha AI
How Much Does Bitalpha AI Cost?
BitAlpha AI trading platform is free to download. No fee is charged while creating a trading account. There are no subscription fees or commissions on profits. Traders only need to add at least $250 as a minimum deposit to start trading, whether you are trading on its demo or live account.
While the robot offers automated trading services free of charge, it is crucial to confirm fees applicable with the brokers it partners with and ensure they fit your budget. All in all, BitAlpha AI is an affordable robot and is reportedly known for generating opportunities to earn profits from deposit bonuses. You need to become a member of the BitAlpha AI robot to understand how and when the bonuses are offered.
| | |
| --- | --- |
| 💸 Minimum Deposit: | $250 |
| 💰 Trading Fees: | None |
| 💰 Account Fees: | None |
| 💰 Deposit/Withdrawal Fees: | None |
| 💰 Software cost: | None |
| 💰 Subscription cost: | None |
What Are the Payment Methods Accepted by Bitalpha AI?
BitAlpha AI is an automated Bitcoin trading robot that supports over 20 additional altcoins. The robot accepts payments in cryptocurrencies and fiats such as USD, GBP, EUR, etc. Remember, the BitAlpha AI doesn't charge transaction fees, but it is crucial to confirm charges imposed by the connected cryptocurrency brokers and banks.
That being said, here are the payment methods currently accepted by BitAlpha AI.
Bank/wire transfers

Debit/credit cards
You should know that if you want to use cryptocurrencies as a deposit method, you will need to buy them first. If you don't know how to buy cryptocurrencies, you can take a look at our guides below:
Does Bitalpha AI Also Charge Fees and Commissions?
Based on the information on the BitAlpha AI website, it does not charge any fees or commissions for its trading services. Since traders use it through regulated brokers for maximum safety, confirming the brokers' fees and commissions before kickstarting your crypto trading automated activities is crucial.
Bitalpha AI Trade Sizes and Limits
BitAlpha AI has a minimum deposit limit of $250 when users create a new account. Besides this minimum deposit limit, this is one of the trading bots that doesn't specify the minimum or maximum trade sizes for users. However, it is essential to check whether the brokers partnering with BitAlpha AI have specific limits, hence budget accordingly.
Visit and sign up now
Bitalpha Ai's Trading Platform
How Does Bitalpha AI Work?
BitAlpha AI reports the use of artificial intelligence technology to generate trading signals and continuously track the cryptocurrency market. Bitalpha AI works by partnering with regulated brokers, traders can explore opportunities to easily execute buying and selling orders and assess the probability of making profits in the highly crypto-dynamic market. BitAlpha AI sends the best signals to brokers using APIs where the trades are executed. Overall, we advise that you analyze the cryptocurrency market for the best trading strategies if you want to fully benefit from this robot.
What Devices Can I Use Bitalpha AI On?
BitAlpha AI program is one of these trading robots that does not have a native mobile app. However, the robot operates on all devices that are browser powered. These include;
Desktops and laptops

Android devices

iOS devices

Tablets
Since the robot doesn't have a native mobile app or any official Bitalpha AI app, it may not run smoothly on mobile-based browsers. You can still enjoy BitAlpha AI by ensuring your device is connected to stable internet.
Can I Use Bitalpha AI in My Country?
Any trader in a country that legalizes cryptocurrency trading can use BitAlpha AI. Below is a comprehensive list of the countries using BitAlpha AI.
| | |
| --- | --- |
| Country | Is BitAlpha AI Available? |
| United Kingdom | Yes |
| Canada | Yes |
| Australia | Yes |
| USA | No |
| South Africa | Yes |
| New Zealand | Yes |
| Philippines | Yes |
| United Arab Emirates | Yes |
| Singapore | Yes |
| France | Yes |
| Spain | Yes |
| Italy | Yes |
| Germany | Yes |
| Nigeria | Yes |
| Mexico | Yes |
Is Bitalpha AI Available in My Language?
Yes. This program is available in various languages, including;
English

French

Germany

Italian

Spanish

Danish
You can access your preferred language from its menu at the top corner of its page.
How Easy Is It to Use Bitalpha AI?
BitAlpha AI is a user-friendly bot, owing to its automated features that minimize human efforts and further allow you to keep a track of its performance to easily identify potentially profitable trends. You do not need prior knowledge of cryptocurrency trading to use this trading platform. Simply customize it to suit all your needs and set up stop-loss orders to begin trading.
In case you experience any challenges or require clarifications, contact its support service operating round the clock.
How much profit can you make using BitAlpha AI?
The amount of profit you can earn in the highly dynamic cryptocurrency market depends on your investment capital and input towards strategizing and tracking BitAlpha AI's performance. Keep in mind that this robot doesn't guarantee successful trades. You need to administer and regularly track its performance. Based on user testimonials, you might be able to bag yourself thousands of dollars as weekly profits, which must undergo tax deductions reported to the IRS/HMRC.
Visit and sign up now
Key Features of Bitalpha AI Platform
While BitAlpha AI has excellent features that make it stand out. Below are the most common ones highly reviewed online by users.
High Win Rate Claim
BitAlpha AI has a claimed win rate in the range of 80% to 85%, which we consider realistic compared to what other trading robots claim to have. Unfortunately, we couldn't verify whether this rate is authentic, but users who have explored the automated crypto trading platform claim it to be in this range.
Fast Transactions and Withdrawals
Based on the information on official website, the robot conducts instant transactions while making purchases using debit/credit cards or cryptocurrencies. Withdrawals take up to 24 hours to complete when transferring funds to bank accounts.
Learning Resources
BitAlpha AI is among the few trading robots that offer adequate learning resources, which you can easily access once you have completed the registration. The FAQ section also supports users with relevant answers to basic questions regarding its performance and cryptocurrency trading.
Demo Account
Demo account is loaded with $10,000 virtual funds to test it out before venturing into the live market. The account opens the door for you to gauge your skill level and decide whether you are ready to risk real money or not. You must deposit at least $250 to have access. This amount is the minimum deposit required to begin trading
Trading With Bitalpha AI: Security and Regulation
Is Bitalpha AI Legit?
Yes. We consider BitAlpha AI legit since the automated trading platform is transparent with its services and all the risks of using it. For instance, the robot's claimed win rate ranges between 80% to 85%, meaning that you can also lose money with the robot. While it prides itself as one of the best CFD cryptocurrency platforms, the robot also cautions users of CFD trading risks and the application of leverage.
The robot is legal and considered a legitimate trading platform in countries where cryptocurrency trading is permissible, but you must conduct additional research to clear all doubts before using this or any other trading bot.
Is Bitalpha AI Safe?
As per the Bitalpha AI reviews submitted on platforms like Trustpilot and Reddit, this exchange platform seems to be safe. Moreover, it is highly encrypted to secure your email and data. The robot also partners with the best cryptocurrency brokers and adheres to KYC protocols to secure its automated trading platform.
Is My Money and I Protected?
BitAlpha AI doesn't have a digital wallet, so it partners with some of the best brokers that guarantee its users' funds' safety. Your funds are secured in segregated accounts only accessible to you. Plus, the robot allows transactions using safe payment methods, including credit/debit cards, bank transfers, and cryptocurrencies. Remember, BitAlpha AI operates online, and you must monitor its performance to quickly identify malicious activities.
Is Bitalpha AI Regulated?
No. BitAlpha AI is not regulated. To ensure the safety of traders' funds and data, it has reportedly partnered with brokers regulated by tier-one authorities. .
Do I Have to Verify My Account With Bitalpha AI Platform?
Yes. BitAlpha AI requires all traders to verify their accounts through the KYC procedures before trading. In the KYC procedure, you are required to share a copy of your ID card and proof of income. This procedure safeguards online trading, thus keeping away imposters.
How Does Bitalpha AI Work? Trading Strategies and Algorithms
When it comes to the question of how Bitalpha AI work, the team at BitAlpha AI declares the use of superior technology that empowers the users with an ability to track the markets and hunt for better trading opportunities. As a result, traders can make quick trading decisions and maximize their chances of benefiting from the volatile crypto market. Below are some of the strategies and algorithms featured in the BitAlpha AI cryptocurrency trading platform.
Technical Analysis Indicators

Trend-based Trading

News Trading

Historical Price Analysis
Extra Information About Bitalpha AI
Educational Resources
BitAlpha AI hosts adequate learning resources to help you improve your skills and familiarize yourself with its operations. You will be able to access these resources only after successfully completing the registration. For more materials to develop your skills, refer to the brokers it partners with, website blogs, podcasts, and YouTube channels. Moreover, the robot hosts a small FAQ section for quick answers that might influence your decisions.
Tools and Charting
Exchange platform BitAlpha AI offers plenty of crypto charts and feeds to ensure you are fully informed of any latest cryptocurrency developments. While the robot can automate your activities, staying abreast with news on your preferred crypto asset is paramount in making the best decision.
Customer Support
BitAlpha AI has customer support service that runs round the clock daily. The support service is easily reachable via email and live chat once you register for an account. Unregistered individuals can reach out to the robot via an online form on its website.
| | |
| --- | --- |
| BitAlpha AI Customer Support | Details |
| Email Support | Available upon registration |
| Contact Number Support | Available upon registration |
| Live chat option | Not available |
| Other support options | Contact form |
Demo Account
BitAlpha AI has a demo account that is fully funded with a $10,000 virtual money. You can access this account once you register with the robot and make the required minimum deposit, which starts from $250. This bot's demo account helps you familiarize yourself with how the live account operates. It is risk-free, and you can use it for as long as possible.
How to Get Started With Bitalpha AI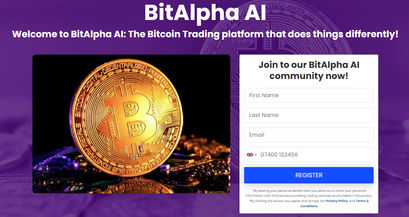 If you want to become part of this trading platform, below are the step-by-step procedures for getting started.
Step 1: Account Registration
Step 2: Complete the KYC Procedure
Step 4: Start With a Demo Account
How to Delete a Bitalpha AI Account?
You can easily delete your account by contacting its support service and submitting a request to close your account. Alternatively, you can initiate the account closing process via the broker your bot is connected with. If you will delete your automated account via a broker, prepare to lose all your data and earnings.
How to Withdraw Money From Bitalpha AI?
BitAlpha AI is not responsible for storing traders' funds. You can access your money through the brokers it is connected with. Below is the proper procedure for withdrawing your earnings using BitAlpha AI.
Sign in to your broker's account using your username and password.

Click withdraw and select a payment method that works best for you.

Enter the amount you wish to withdraw

Complete the process and wait for the funds to be transferred to your personal account within 24 hours.
Most brokers connected with this trading platform do not accept payouts in cryptocurrencies. Therefore, ensure you convert your assets to fiat currencies to successfully withdraw your money.
Visit and sign up now
Bitalpha AI Celebrity/ Company Endorsements
There are many online reviews regarding BitAlpha AI endorsed by top companies/celebrities. We did additional research on these claims to ensure you get accurate information, and below are our findings.
Is Elon Musk Related to Bitalpha AI?
No. Musk is a prominent investor and engineer who believed to embrace BitAlpha AI. Based on our investigations, Musk is not related to this trading platform and there is no proof that he endorsed the robot.
Is Martin Lewis Related to Bitalpha AI?
No. Martin Lewis is a popular English journalist and TV host. He is also the founder of the MoneySavingsExpert.com website, which he later sold to the MoneySupermarket.com Group for ₤87 million. Based on our research, there is no reliable information linking Martin Lewis to this trading platfrom, making the ongoing rumors untrue.
Is Jeff Bezos Related to Bitalpha AI?
No. Jeff Bezos is a popular American media and business mogul. He founded Amazon and is currently its executive chairman. Rumors are stating that Bezos is planning to purchase BitAlpha AI but based on our research, Bezos hasn't endorsed the robot, nor is he connected with the robot whatsoever.
Is Nicole Kidman Related to Bitalpha AI?
No. Nicole Kidman is a highly reputable and award-winning actress. Kidman has been among the speculations regarding a potential BitAlpha endorsement. Unfortunately, no solid proof indicates Kidman is actively involved with the robot.
Is Trevor Noah Related to Bitalpha AI?
No. Trevor Noah is a South African comedian and the Daily Show co-host. Many claim that he got his wealth from the cryptocurrency market, but we couldn't find proof supporting these claims.
Bitalpha AI in the News
Is This Morning Show Related to Bitalpha AI?
No. This Morning show features many episodes. Based on our thorough analysis, we couldn't find a single episode where BitAlpha AI was mentioned.
Is Shark Tank Related to Bitalpha AI?
No. Shark tank is a business TV reality show featuring upcoming business individuals pitching their ideas to receive funding from top investors. We analyzed all the episodes featured so far, and there is none featuring BitAlpha AI.
Other Bitalpha AI Review & User Testimonials
BitAlpha AI is a recently launched cryptocurrency trading bot that has proven reliable and efficient. We analyzed some of the user reviews and testimonials on various platforms to help you make the best decision.
What Are the Top Bitalpha AI Reviews on Reddit?
Many users on Reddit believe that BitAlpha AI is an excellent addition to the cryptocurrency space. Not only does it have a user-friendly automated trading platform, but it is affordable and customizable for any trader. Moreover, the robot is fast than humans, thus allowing you to take advantage of trading opportunities as they arise.
What Are the Top Bitalpha AI Reviews on Trustpilot?
Our analysis of the Bitalpha AI review and testimonials on Trustpilot was challenging since there are only a few comments left by users so far. However, based on our findings, most BitAlpha AI users highly recommend the robot because of its reliability and efficiency in managing trades. However, they also state that it is essential to manage your activities to attain maximum potential.
What to Consider When Starting With Bitalpha AI
While BitAlpha is one of those crypto trading bots that are user-friendly and you do not need to have the prior trading experience to use it, you must prepare fully for the highly dynamic cryptocurrency market. Here are some of the critical information before begin trading.
Do not rush to invest a lot of money with BitAlpha AI. Stick to the $250 minimum deposit requirement and only increase the amount once you are confident with your skills.

Read and understand BitAlpha AI partnered brokers' terms and conditions to decide whether it is worth trading with.

Always withdraw your earnings to avoid misusing them. Remember, trading can be addictive.

Thoroughly analyze the crypto market to create solid strategies. You should also constantly check your account to ensure everything is under control.

BitAlpha AI doesn't guarantee profits, so invest with money you are comfortable losing in case of a loss.
Is There a Bitalpha AI Alternative?
We hope that you will find this trading platform suitable for your automated trading needs and give it a try. However, should you find the robot unsuitable, we recommend other highly reputable trading bots as alternatives. Check these crypto trading bots below.
Bitalpha AI Review: Final Thoughts
BitAlpha AI is slowly gaining recognition in the cryptocurrency market. The robot does not appear to be a scam since it has implemented measures to secure its automated trading platform and users' data/funds. BitAlpha AI continues to help many traders earn profits, and you can also benefit from it only if it suits your requirements.
When signing up for an account, BitAlpha AI will connect you to a preferred broker based on your jurisdiction area. Fret not because the robot only partners with regulated and licensed brokers. All you have to do is confirm whether the brokers are transparent with their fees and host adequate trading materials. To trade safety, test it out using its demo trading account before investing real money in this trading platform.
Visit and sign up now
FAQs
Do I Need Any Crypto Trading Knowledge to Get Started With Bitalpha AI?
Are There Any Risks of Using Bitalpha AI?
Does Elon Musk or Any Corporations (Like Tesla) Use Bitalpha AI?
Bitalpha AI Celebrity and Media Endorsements, Is It All True?
My Account Is Frozen, What Can I Do?
How Much Profit Can I Make With Bitalpha AI?
Are There Any Hidden Fees With Bitalpha AI?
What to Do if You're Losing Money With Bitalpha AI?
How to Stop Receiving Bitalpha AI Spam Emails?
Is Bitalpha AI a Scam and a Pyramid Scheme?
Can Bitalpha AI Be Trusted?
Author Bio

Danny Maiorca
Danny is a freelance writer specialising in technology and finance. Prior to working for himself, he spent several years working within those sectors in London. Since then, Danny has relocated to Denmark.