What is BitIQ?
BitIQ is an automated arbitrage trading software and is one of many trading bots promising easy profits via automated trades. BitIQ works like other crypto trading bots - users set parameters and stop-loss limits according to their crypto trading strategies. BitIQ offers numerous crypto contracts and operates in any country where crypto CFD trading is legal. As users trade CFD contracts, they do not own the underlying cryptocurrency tokens. However, account-holders may still profit on fluctuations in the cryptocurrency market.
Users do not need much experience to use BitIQ. This crypto trading robot ensures anybody can use its service. However, do not trust BitIQ trading robot to make easy profits. The website suggests the crypto market is set for another boom. No crypto trading bot can predict market movements accurately, and you can easily lose money. Trading bots are one of the riskiest ways to place trades, especially when trading with leverage. Only deposit funds into your account you can afford to lose.
BitIQ Review at a Glance
| | |
| --- | --- |
| 🤖 Robot Type: | Bitcoin Robot |
| 💸 BitIQ Minimum Deposit: | $250 |
| ✅ Is BitIQ Scam or Legit? | Legit |
| 🚀 BitIQ Claimed Win Rate: | 90% |
| 💰 BitIQ Trading Fees: | None |
| 💰 BitIQ Account Fees: | None |
| 💰 BitIQ Deposit/Withdrawal Fees: | None |
| 💰 BitIQ Software cost: | Free |
| ⌛ BitIQ Withdrawal Timeframe: | 24 Hours |
| #️⃣ Number of Cryptocurrencies Supported on BitIQ : | 14 |
| 💱 BitIQ Supported Cryptocurrencies: | BTC, BCH, LCT, ETH, EOS |
| 💲 BitIQ Supported Fiats: | USD, GBP, EUR |
| 📱 Native Mobile App: | No |
| 🖥️ BitIQ Demo Account: | Yes |
| 🎧 Customer Support: | Online form |
| ✅ Verification required: | KYC |
| 🔁 Automated Trading: | Yes |
| 📈 CFD Available | Yes |
| 💱 Forex trading | No |
BitIQ - Visit Now
Pros and Cons of Using BitIQ trading robot
Pros
BitIQ trading app has a relatively easy registration process
No trading experience is required to buy and sell contracts
Numerous brokers and cryptocurrency contracts are available
BitIQ operates in multiple countries and jurisdictions
Cons
Unavailable in certain locations, such as the United States and Hong Kong
BitIQ customer support is unreliable
Trading robots are the riskiest way to place trades
BitIQ is missing features for advanced traders such as price trend analysis, technical analysis and others.
BitIQ Markets, Assets, And Options
What Assets and Products Can You Trade Using BitIQ trading robot?
BitIQ trading platform account-holders can trade cryptocurrency contracts for the most popular cryptocurrencies. However, users do not own and cannot spend the underlying asset. Some of these assets include:
Head to BitIQ for more information on its available CFD contracts.
Get Started with BitIQ
What Leverage Trading Options are There?
BitIQ does not have any leverage trading information on its website. Typically, cryptocurrency trading platforms offer leveraged trading instruments, providing massive margins to maximize potential profits.
Leveraged trading (or margin trading) involves borrowing money from a regulated broker to place huge trades for assets and then paying the loan back later. Both regulated and unregulated automated trading platforms offer margin trading. However, unregulated bots usually offer much higher margin trading options, which should be avoided, especially if you are new to trading.
We suggest avoiding leveraged trading if you do not know what you are doing. In addition, only perform leveraged trades through regulated brokers. These leveraged will not be as generous as unregulated brokers, but you'll avoid falling into huge debt. Finally, remember, even if a crypto trading bot promises easy profits, there's no guarantee you will make any money.
What are the Spreads?
Based on our BitIQ review, we found that it has no spread information on its website. Paired regulated brokers will offer their own spreads, which will change as Bitcoin's value fluctuates. Ask your broker when completing your KYC questionnaire if you want to know more.
Also, BitIQ does not offer any other markets outside of crypto, so trading forex and stock market trading is not available with BitIQ.
Fees, Limits, and Payment Options on BitIQ
How Much Does BitIQ trading robot Cost?
BitIQ requires a minimum payment of $250 to create an account. The crypto trading robot classes this payment as a minimum deposit and uses the money to execute our first trade. There is no membership fee.
What Are the Payment Methods Accepted by BitIQ?
BitIQ accepts various payment methods. These options include:
Credit card

Debit card

Bank account transfers
BitIQ may offer other deposit and withdrawal methods, but that information is not readily available. In addition, users cannot use e-wallets such as Paypal or Venmo.
Bank account withdrawals will be delivered to the same account used to deposit funds. Account-holders may face other costs from their credit card provider. Online bank transfers and deposits can take several days to reach your broker account.
Does BitIQ Also Charge Fees And Commissions?
BitIQ does not have any fees aside from the initial $250 deposit.
The Bitcoin trading robot takes a commission from any profits made through the service. This commission will be taken automatically. Users are not required to pay anything extra on withdrawal request.
BitIQ Trade Sizes And Limits
BitIQ has a minimum trade of $250 and no maximum trade limit.
Register with BitIQ
BitIQ Trading Platform
How Does BitIQ Work?
BitIQ works by using trading signals and algorithms to speculate on the cryptocurrency market. The platform has built-in AI and machine learning that places trades according to your set parameters and stop-loss limits. However, users can also trust BitIQ to make trades according to its indicators. BitIQ trading system takes your deposit and pays it into a broker wallet (no money is held on BitIQ) - the bot then trades through that broker. These regulated brokers may or may not be regulated. Users can try out the demo trading feature before risking their deposit to make sure they understand BitIQ's features.
What Devices Can I Use BitIQ On?
Account-holders can access BitIQ on any device with a web browser. The bot works on most popular browsers. However, there is no dedicated mobile or desktop app. BitIQ trading system only works on web browsers.
You can use BitIQ on the following devices:
Computer

Laptop

Smartphones (iOS and Android)

Tablets
What Exchanges and Brokers Does BitIQ Partner With?
BitIQ does not have any information regarding brokers until you create an account. The platform does partner with brokers in any location where CFD trading is allowed. However, we cannot verify if these brokers are regulated. When assigned a broker, ask them directly about their regulation policy. Do not conduct trades through unregulated brokers.
Can I Use BitIQ Trading App in My Country?
BitIQ trading system is available in any location where CFD trading is legal. These jurisdictions include:
BitIQ (and many other automated trading systems) are unavailable in the following locations:
Is BitIQ App Available in My Language?
BitIQ is available in multiple languages. Simply select your preferred language from a menu at the top of the homepage.
English

Danish

Portuguese

Spanish
Sign up now with BitIQ
How Easy is it to Use BitIQ App?
BitIQ's premise is simple and accessible for users with no experience in the cryptocurrency market. Most tools are automated, and the platform uses artificial intelligence to execute trades without your input. In addition, account-holders can set trading limits and parameters to match their ambition and strategy.
However, BitIQ also offers a demo mode to figure out the system and tools without losing any money. As such, users do not need to make any trades until they are comfortable with BitIQ's features. BitIQ also has charts to keep users up-to-date with the price of popular cryptocurrencies.
While BitIQ offers a smooth crypto trading process, and is easy to use, account-holders should not expect to profit. Crypto trading bots are simplified to entice users, but they never usually work. While adding your own parameters will limit how much you lose on Bitcoin trading bots, you should not trust them to make money in the crypto market. The best traders are well-versed in trading techniques and have a deep understanding of how the market works.
Key Features of BitIQ Trading Robot

BitIQ's top features help you shape your cryptocurrency trading strategies and include a demo account, selection of cryptocurrency assets, and algorithms for automated trading.
Numerous Popular CFD Contracts
BitIQ has many CFD contracts, including Bitcoin, Ethereum, and Litecoin contracts. Stick to one asset or diversify your trades to limit the financial risk.
Artificial Intelligence And Algorithms
BitIQ uses algorithms and trading signals to read the market and place trades. Users can adjust custom parameters to ensure the algorithm only acts in their best interest.
Demo Account
All cryptocurrency trading bots offer a demo service so users can practice safely without losing their deposit. Users can access BitIQ's demo trading account after adding funds into their account. Demo accounts are essential to learn how the bot works before enabling live trading.
However, BitIQ does miss some trading features for advanced traders such as price trend analysis, you will get an account manager, but they won't be as useful as a traditional free personal account manager you get with a crypto broker.
Why choose BitIQ over other trading robots?

Beginner friendly
BitIQ is tailored for beginners as well as professional traders. The interface is easy to navigate and all the features are in a single dashboard. It was designed for anyone to be able to get started in minutes.
Quick and Easy verification process
Once you create BitIQ account, the verification process takes few minutes to complete. Simply wait for the broker to contact you, answer few questions, verify your identity and start trading. The whole process shouldn't take longer than 15 minutes.
One cost and free software
The software is absolutely free to use, the only cost there is, is the minimum deposit to begin trading. After depositing the minimum amount of $250, you don't need to pay any fees.
Selection of cryptocurrencies
Although cryptocurrency robots usually support multiple cryptocurrencies, BitIq is not an exception. You can trade multiple coins at once on multiple exchanges, refer to our full list of coins above. However, its worth noting that trading forex is unavailable on BitIQ, as well as trading stock markets is currently not available.
Trading with BitIQ: Security And Regulation
Is BitIQ Legit?
BitIQ is not as legit as other more reputable brokers and Bitcoin trading services, such as eToro or Kraken.
The homepage is essentially the same as many other cryptocurrency trading bots, promising huge profits and brushing over the risks. The website content is not very professional and more interested in enticing users rather than telling the truth.
Based on our past reviews, most regulated platforms do not require a $250 deposit to make an account. These practices should be a red flag that the company wants your money rather than providing a service. Users also have no way of telling which trades occur and can't verify if those trades are in their best interest.
While trading parameters may ensure BitIQ arbitrage trading software works in your favor, do not expect to make much money with little control over your crypto trades.
Is BitIQ Safe?
BitIQ has a transparent privacy policy but very little information regarding security practices. Users need to verify their accounts, preventing fraudulent account-holders from accessing the system. However, BitIQ gives information to other companies, so do not expect your personal details to remain secure. In addition, customer service is somewhat unreliable according to genuine customer reviews. If you struggle with the site or cannot withdraw your money, do not expect help from a representative.
BitIQ - Visit now
Am I and My Money Protected with BitIQ trading platform?
BitIQ does not hold your money. Instead, deposits are sent directly to the broker who provides a wallet. Contact the broker directly to find out more about your money's safety.
Is BitIQ Regulated?
BitIQ is not regulated in the United States (CFD trading is illegal in that jurisdiction). We could not find other information regarding the trading robot's regulation status in any other location.
Do I Have to Verify My Account with BitIQ App?
Yes - users must verify their email address and complete the broker's KYC procedure before they can deposit their funds and enable live cryptocurrency trading.
BitIQ Trading strategies
BitIQ website claims the robot is utilising many trading strategies. We've outlined them below to help you decide if BitIQ is legit enough to start trading.
Automated Trading Tools
BitIQ claims it utilises artificial intelligence that learns from your trades and the crypto market in general. Based on these trading habits, BitIQ can then make better decisions based on your trading style. This feature can be particularly useful for advanced traders who often tweak their trading strategy. However, if you're a beginner, make sure to discuss your decisions with your free free personal account manager.
Arbitrage Trading
With ever-changing crypto market, it is hard to keep track of all the financial exchanges and the price differences between them. Arbitrage trading is a strategy that utilises the price difference between multiple exchanges. BitIQ website claims it can track the price difference between 30+ exchanges and brokers.
News Trading
BitIQ claims it can leverage recent news from top cryptocurrency news sources, and leverage that data to help you make better trading decisions.
Price Trend Analysis
BitIQ claims to utilise multiple trading strategies, including the price analysis and other fundamental principles. Combined with the AI software, BitIQ believes it gives them an edge over competition and manual trading.
Although BitIQ claims a lot on their website, it is very hard to verify the validity of this information. Crypto robots typically don't utilise any of these strategies, nor do the use AI to help you make trades. Based on our previous reviews, we believe these claims are highly exaggerated and should be taken with a pinch of salt.
Extra Information About BitIQ app
Educational Resources & Investment Advice
BitIQ has plenty of information about why you should trade (though we doubt the authenticity of BitIQ's claims) but no other educational resources such as trading strategies. However, if you want to understand more about cryptocurrency, there are many educational websites and blogs offering news, trading strategies and advice to develop your own trading strategies and knowledge. Additionally, users can try BitIQ's demo trading account to improve their understanding of this trading bot's features and practices.
Tools And Charting
BitIQ mainly uses algorithms and other automated tools to place trades based on your trading strategy and crypto trading process. However, users can browse charts to stay on top of the crypto market and better understand the assets traded on BitIQ.
Customer Support
BitIQ has a contact form and email addresses where you can send queries. Users can either contact their broker or the bot itself. However, we cannot confirm how long users need to wait for an answer.
When should you use BitIQ?
There are many reasons to use crypto robots, a few are below:
Automation: BitIQ lets you automate simple and repetitive tasks based on pre-set list of criteria. Once you're done tweaking the settings, BitIQ will continue executing the same repetitive tasks without you. This is convenient if you have very little time and don't want to waste it on robotic labour.

24/7 market watch: BitIQ will be watching and executing trades 24/7. This is especially useful if you want to make extra money on the side along with your full time job. BitIQ will constantly execute orders without needing you to be at your screen.

Time consuming tasks: When using a broker, there are many tasks that require attention and detail. BitIQ eliminates it completely as it executes all the trades on your behalf.
How to Start Trading with BitIQ platform
The account setup process is very simple. Follow these steps to get started with BitIQ trading.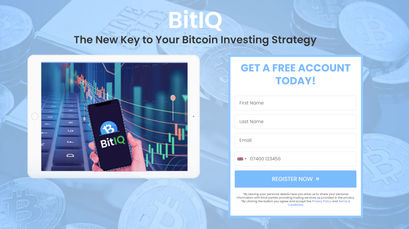 Step 1 - Register for BitIQ account
To begin trading , go to BitIQ website and fill out the registration form with your name, email, and phone number. Confirm your email address by following a link sent to your inbox.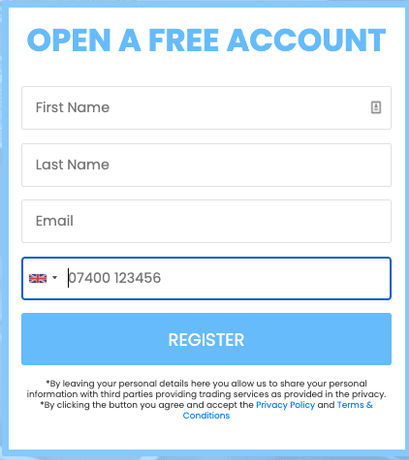 Step 2 - Verify your identity
Complete a KYC questionnaire with an advisor from your paired brokers. You'll then need to pay the minimum deposit before you can open your BitIQ account and begin trading.
Step 3 - Practice on a demo account first
Once verified, navigate to the BitIQ website again, login and practice with virtual funds in the demo mode until you understand the ins and outs of BitIQ. Then, when you feel comfortable, head to the normal version of the crypto trading robot to start live trading.
Step 4 - Set trading parameters
Change your parameters, set up your stop-loss limits to make sure the bot trades according to your trading strategy and standard crypto trading procedures.
Step 5 - Enable live trading
Once you're ready to begin trading live, enable live trading session and watch your earnings. Make sure to adjust your cryptocurrency trading strategies to make sure you stay in profit.
Begin Trading with BitIQ
BitIQ Celebrity and Media Affiliation
There are many claims online that BitIQ is affiliated with media and popular celebrities, below are some of the claims and the legitimacy of them:
BitIQ This Morning Rumours
According to BitIQ reddit thread, BitIQ has been featured on a popular British TV show: This Morning. According to reddit, hosts have claimed that BitIQ is being used by celebrities to make profits. We've reviewed these claims and are certain this is not true. There is no legit and factual information to support these claims.
BitIQ Shark Tank and BitIQ Dragons Den
It is also rumoured that BitIQ received funding from Shark Tank and Dragons Den. These claims are false and BitIQ has never received any funding from any angel investors.
BitIQ Elon Musk
The rumour says that Elon Musk recommends using the BitIQ app to make profits with cryptocurrency trading. We couldn't find any evidence to support this claim. We also found that there are many cloned websites that use the same claims to lure users in and steal personal information. Avoid falling into a trap of cloned websites by only using legit crypto robots.
BitIQ Daily Mirror
There are many claims online of BitIQ appearing on large publications such as Daily Mirror. We've reviewed this and again, couldn't find any factual evidence to support these claims. Majority of the posts found are hosted on similar looking sites (cloned sites) that try and lure you in to sell your personal information. Be careful when clicking on these kind of posts and only use legit and regulated brokers for trading.
Is there a BitIQ alternative?
Yes, there are many more crypto robots available. If you don't want to use BitIQ, check out some of our other reviews:
Final Thoughts on BitIQ App
Based on this BitIQ review, we cannot recommend BitIQ if you are looking for a reliable trading software. BitIQ is not forthcoming with its security and regulatory procedures. The crypto trading bot is also built on false promises. No trading platform or algorithm can predict the cryptocurrency market or guarantee successful trades, so make sure to review your crypto trading strategy before getting started.
In addition, some users may be unable to contact BitIQ in the event of any issues. According to other BitIQ reviews online, some users have complained about the platform taking their money, which can be found in many reviews on Trustpilot.
If you want a positive trading experience, stick to a well-known regulated broker who offers CFD trading, competitive margin options, and transparent policies.
FAQs
Do I need any crypto trading knowledge to get started with BitIQ?
How can I deposit money to BitIQ?
How much money can I make with BitIQ?
Are there any hidden fees with BitIQ?
What is BitIQ investment?

Danny Maiorca
Danny is a freelance writer specialising in technology and finance. Prior to working for himself, he spent several years working within those sectors in London. Since then, Danny has relocated to Denmark.