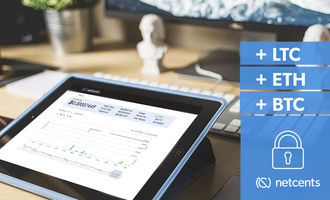 NetCents rapidly evolving to boost growth for merchants

News Desk
Last updated 12th Apr 2022
While 2017 had its share of success, 2018 is shaping up to be even better for NetCents Technology, a next-generation payment processor supporting multiple traditional currencies, cryptocurrencies, and all innovative payment methods.
That combination provides users with the freedom to pay by their preferred means while empowering merchants with tools lowering their financial risk.
Read on to discover what NetCents has planned for 2018.
Additional payment options and currencies supported, increased convenience
The NetCents platform lets the merchant choose their preferred payment options. So far, Bitcoin (BTC), Ethereum (ETH), MasterCard, Visa and fiat currencies are all accepted payments methods from the user's wallet.
And as of Feb. 1, you can add Litecoin (LTC) to the list. LTC was included on the NC Exchange so users can deposit, withdraw and trade it for supported cryptocurrencies. LTC joins BTC and ETH, other recent additions. Users can now buy and sell all of these, along with NCCO, the NetCents coin, on the exchange with USD, CAD and the Euro.
[video src="https://net-cents.com/wp-content/uploads/NetCents-ICO-low-v2.mp4" /]
Added security measures provide users with peace of mind
NetCents has implemented additional security measures to protect user accounts. Two-factor authentication adds an extra security layer that is activated via an email code or through Google Authenticator.
Users can also enable whitelisting, which allows them to select which IP addresses are allowed to log into their NetCents account. They can also approve and deny IP addresses, allowing them to stop unwanted activity at the earliest stages.
Do you want to know what happens to your account the second it occurs? By selecting email notification capability, you will be notified of all moves no matter where you are.
Poynt Smart Terminal integration adds another way to transact
NetCents has completed the integration of its cryptocurrency processing widget into Poynt's Smart Terminal. When shopping at a participating retailer, follow these steps:
Log into your NetCents account
Enter the payment amount
Press the NetCents button
Select preferred payment method
Press "pay a merchant"
Scan the QR code
Confirm the payment method
Catch a demonstration of NetCents and Poynt's Smart Terminal in action:
Addition, promotion prepare NetCents for busy year
NetCents has made a couple of additions to its leadership team in preparation for a busy year.
Mike Laitinen has been named chief financial officer (CFO). Formerly the CFO at Digital Underground Media, Mr. Laitinen brings more than 25 years of finance, accounting, risk management, operations, process design and restructuring experience to the role. Having worked for both publicly-held and private corporations, he will play an integral role in the strategic planning process.
Jenn Lowther brings more than a decade's worth of award-winning digital marketing experience to the chief marketing officer role, where she is charged with shaping and leading NetCent's marketing and growth strategies. A graduate of Simon Fraser University with a degree in Business Administration and Economics, Ms. Lowther founded Indaba Digital, a relationship marketing agency counting Sotheby's International Realty Canada, Fuck Cancer, and Abbvie among its clients.
For more information on NetCents, read this profile and interview with CEO Clayton Moore
Things at NetCents are moving fast in 2018. Stay current by following them on social media: