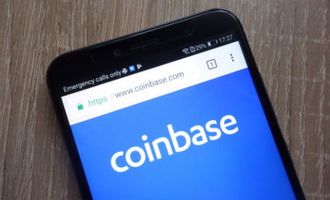 Coinbase shares slump after SEC Wells notice, Lend program postponed

Daniela Kirova
Last updated 5th Aug 2022
Coinbase Global shares plummeted during pre-opening trading today after the company received a Wells Notice from the U.S. Securities & Exchange Commission, which expressed the regulator's intentions to sue in connection with Coinbase's plans to let its customers earn interest by lending their digital assets, a program it calls 'Lend'. SEC considers the crypto yield program a security.
No explanation
According to Coinbase CEO Brian Armstrong, Coinbase approached the securities regulator this year to discuss the Lend program, under which holders of the USD Coin (USDC) stablecoin will get an annual yield of 4%. The Commission responded by telling Coinbase the program was a security without any clarification and threatened to sue if they initiated it:
"They refuse to tell us why they think it's a security, and instead subpoena a bunch of records from us (we comply), demand testimony from our employees (we comply), and then tell us they will be suing us if we proceed to launch, with zero explanation as to why."
Armstrong called on the SEC to give an explanation, pointing out that other crypto exchanges are offering their users similar lending services at the moment. The SEC's actions also threaten Coinbase competitors like BlockFi and Celsius, which have launched such products. BlockFi, which have some of the highest-interest products, are under investigation in several US states.
Coinbase CLO Paul Grewal wrote in a blog post published today:
"Customers won't be 'investing' in the program, but rather lending the USDC they hold on Coinbase's platform in connection with their existing relationship. And although Lend customers will earn interest from their participation in the program, we have an obligation to pay this interest regardless of Coinbase's broader business activities."
Grewal added that the only explanation SEC gave them was that the lending program was being evaluated – based on the Howey and Reves case, which is decades old. The SEC did not share the evaluation result.  
Contradictory statements?
SEC chief Gary Gensler advocates cooperation between digital asset companies and the SEC to ensure seamless operation under public frameworks. According to Grewal, this is a rather contradictory statement considering how the watchdog is acting. Coinbase will postpone the launch of the program pending further feedback.
SEC investigates Uniswap Labs  
In related news, SEC is reportedly investigating the startup behind Uniswap, the biggest decentralized cryptocurrency exchange in the world. The Wall Street Journal reported that the regulator was probing the investor and marketing services of Uniswap Labs, the exchange's main developer.
Daniela Kirova
Daniela is a writer at Bankless Times, covering the latest news on the cryptocurrency market and blockchain industry. She has over 15 years of experience as a writer, having ghostwritten for several online publications in the financial sector.