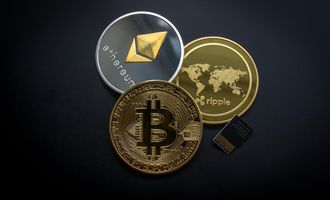 Bitcoin And Ethereum Correct Gains After Recent Surge

Ruby Layram
Last updated 12th Apr 2022
After the recent price surge, Bitcoin is currently trading below $64,000 and there could be more downsides in the short-term. The largest crypto is not the only coin to have dropped in the last few hours with a number of other altcoins also correcting their gains. 
Ethereum traded below the $4,320 and $4,250 support levels. Ripple is still struggling to clear the $1.15 resistance and Cardano tested $2.30 before dropping lower. 
Bitcoin price correction 
After experiencing a new all-time high earlier this week, Bitcoin began a downside correction below $66,000. The coin continued to drop below the $64,200 support levels before testing $62,000 and is now consolidating the losses. There is initial support at $62,500 and the first major support sits at $62,000. If the price drops below this, it could test the $60,500 support. 
If there is an increase, the price may face some resistance near $64,200 with the next major resistance being at $65,000. If the price surges above this, the coin could potentially test a new all-time high. 
1
Minimum Deposit
$200
Exclusive Promotion
More than 3,000 assets, including currencies, stocks, cryptocurrencies, ETFs, indices and commodities
Buy crypto, or trade cryptocurrencies via CFDs
This ad promotes virtual cryptocurrency investing within the EU (by eToro Europe Ltd. and eToro UK Ltd.) & USA (by eToro USA LLC); which is highly volatile, unregulated in most EU countries, no EU protections & not supervised by the EU regulatory framework. Investments are subject to market risk, including the loss of principal.
Ethereum price 
Ethereum was able to clear the $4,200 support level and went on to pass the $4,350 level. The price failed to test the $4,400 resistance and a high was formed at around $4,375 before dropping lower. The price of Ethereum is now trading below $4,200 but could reach the $4,000 level. 
Ripple price 
Ripple has failed to gain strength above $1.15 and has started a downside correction. It is now trading around $1.10 and has an immediate support at $1.08. The next major support is around $1.05, below which the price could fall to $1.00. 
Dogecoin price
After weeks of optimism, Dogecoin has fallen back below $0.250. An initial support sits at $0.240 and the first major support is $0.232, below which the price could easily tumble towards the $0.220 level. If there is an increase above $0.250, the price could rise to $0.265. 
If you want to buy some DOGE, read our guide on where to buy dogecoin in 2021.
Cardano price
Cardano has broken the $2.18 and $2.20 resistance levels. It dropped below $2.32 before correcting lower and is now trading below $2.20 with a key support waiting at $2.15. Any further decrease could drop the price to $2.05. 

Ruby Layram
Ruby is a writer for Bankless Times, covering the latest news on the cryptocurrency market and blockchain industry. Ruby has been a professional personal finance and investment writer for 2 years and is currently building her own portfolio of altcoins. She is currently studying Psychology at the University of Winchester, specialising in Statistical analysis.