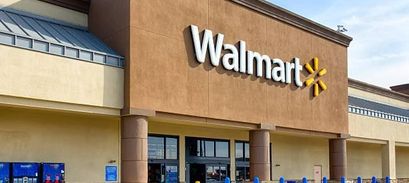 Walmart now hosts bitcoin ATMs

Walter Akolo
Walmart Inc., which holds the top spot among Fortune Global 500 companies, now hosts bitcoin ATMs at various US stores. 
Customers can now buy bitcoin at Coinstar machines within the retailer's immense big box stores. Coinstar is famous for kiosks that allow shoppers to exchange US coins for gift cards or paper bills. 
Coinstar, partnering with Coinme, launched the pilot program at Walmart, enabling shoppers to purchase bitcoin with cash. Coinme runs the most extensive and licensed cryptocurrency cash exchange in the US, specializing in bitcoin ATMs (BTMs).
200 Coinstar kiosks are part of the program inside Walmart stores in the US. 
How it works
To buy bitcoin, customers insert paper bills into Coinstar machines and get a voucher. Next, they must create a Coinme account and go through know your customer (KYC) background checks before they can redeem the voucher.
According to the Coinstar website, the machine levies a 4% transaction fee plus an additional 7% fee for cash exchange with each purchase. Despite the expense, the move is a step in the right direction towards lowering entry barriers for first-time crypto buyers. 
1
Minimum Deposit
$50
Exclusive Promotion
More than 3,000 assets, including currencies, stocks, cryptocurrencies, ETFs, indices and commodities
Buy crypto, or trade cryptocurrencies via CFDs
This ad promotes virtual cryptocurrency investing within the EU (by eToro Europe Ltd. and eToro UK Ltd.) & USA (by eToro USA LLC); which is highly volatile, unregulated in most EU countries, no EU protections & not supervised by the EU regulatory framework. Investments are subject to market risk, including the loss of principal.
The rise of BTMs
The bitcoin ATM industry has seen rapid expansions in the Covid-19 era. In 2020, a surge in usage of BTMs prompted Coinstar to start making plans to double its cash for bitcoin machines found in supermarkets, malls, and pharmacies. 
Coinstar and Coinme formed a mutually beneficial relationship in 2019 to allow shoppers at select locations to buy bitcoin for cash. Recently, they launched 300 bitcoin-enabled kiosks across Florida, allowing residents of Miami, Jacksonville, Tampa, and Orlando to purchase bitcoin while shopping for groceries. 
The kiosks are located in various grocery outlets, including Fresco y Mas, Winn-Dixie, and Harveys, making using cash to buy bitcoins as simple as visiting a local grocery store. 
The program at Walmart is another step up towards bringing cryptocurrency financial services closer to the mainstream. MoneyGram also recently linked with Coinme and debuted cash for bitcoin trades at over 12,000 locations, including Walmart. 
Risk concerns
While BTM expansions are great for adoption, the Cryptocurrency Compliance Cooperative has expressed concerns about negligent BTM companies who lack fraud prevention and anti-money laundering (AML) controls. 
The machines attract high levels of illicit activities while crypto ATM operators turn a blind eye. Such activities include credit card theft, human trafficking, and child exploitation. Large retailers like Walmart are cautioned to know who they partner with and what they're doing to manage risks. 

Walter Akolo
Walter is a writer from Nairobi, Kenya. He covers the latest news on the cryptocurrency market and blockchain industry. Walter has a decade of experience as a writer.