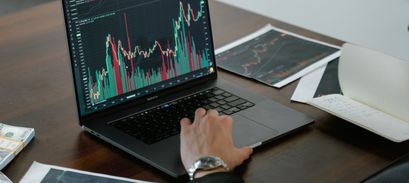 Fears Of Regulation Spark Stablecoin Sell-Off

Ruby Layram
Last updated 23rd Sep 2022
The optimism that was seen earlier in the week seems to have dwindled after recent comments from U.S Federal Reserve Chairman Jerome Powell confirmed that the central bank would soon start to taper its monetary policy of easing and bond buying. 
The statements that have been made seemed to have kicked off a series of price drops across the marketplace. Both Bitcoin and Ethereum have found themselves under pressure. 
BTC is currently struggling to hold it's $61,000 level after dipping to $60,3000 on Wednesday. 
Ether has also experienced a price dip today. The coin reached a new all-time high on Wednesday and has already declined by 5%. According to independent market analyst Rekt Capital, Ethereum needs to close the week above its previous all-time high if it hopes to keep the positive movement running. 
1
Minimum Deposit
$10
Exclusive Promotion
More than 3,000 assets, including currencies, stocks, cryptocurrencies, ETFs, indices and commodities
Buy crypto, or trade cryptocurrencies via CFDs
This ad promotes virtual cryptocurrency investing within the EU (by eToro Europe Ltd. and eToro UK Ltd.) & USA (by eToro USA LLC); which is highly volatile, unregulated in most EU countries, no EU protections & not supervised by the EU regulatory framework. Investments are subject to market risk, including the loss of principal.
Altcoins take a fall
The price decline of BTC and ETH has also affected the altcoin market. Many tokens that were previously in the top 200 are now in red. Some of the hardest-hit tokens are those that have seen the biggest gains in recent weeks. SHIB has seen a 17.22% decrease and TRAC has experienced a 38% pullback. TRAC recently hit an all-time high after being released on Coinbase. 
Some tokens have had better luck despite the sea of red. VLX saw gains of 30.4% and CHR has gained 26.47%. The overall cryptocurrency market cap is now at $2.686 trillion and Bitcoin has a 43% dominance rate. 
The crypto market has been volatile for some time now thanks to increasing pressures for regulation around the globe. Kazakhstan is among the latest countries to announce a set of tight crypto rules and other nations are soon to follow. As of now, it is hard to predict where the market could go. 

Ruby Layram
Ruby is a writer for Bankless Times, covering the latest news on the cryptocurrency market and blockchain industry. Ruby has been a professional personal finance and investment writer for 2 years and is currently building her own portfolio of altcoins. She is currently studying Psychology at the University of Winchester, specialising in Statistical analysis.