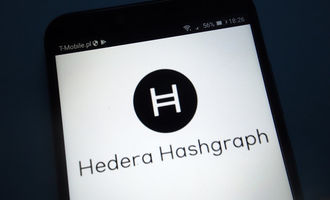 Hedera Hashgraph price prediction: calm before the storm?

Crispus Nyaga
Last updated 24th Jun 2022
The Hedera Hashgraph price has remained in a relatively tight range in the past few weeks as the momentum that happened in September fizzles. HBAR is trading at $0.4130, where it has been in the past few days. 
Why has HBAR lagged?
Hedera Hashgraph price has lagged that of its big and smaller peers in the past few weeks. Its price is trading at $0.4125, which is about 30% below its all-time high of $0.5775.
In contrast, Ethereum has jumped to its all-time high while Bitcoin is a few points below its highest level on record.
Hedera Hashgraph has likely lagged because of lower demand from investors. In the past few weeks, we have seen that its search queries in Google and other search engines have declined substantially. 
At the same time, its mentions in social media has also declined. Instead, investors have focused on other fast-growing cryptocurrencies like Kedana, Solana, Shiba Inu, and even Dogelon Mars.
1
Minimum Deposit
$200
Exclusive Promotion
More than 3,000 assets, including currencies, stocks, cryptocurrencies, ETFs, indices and commodities
Buy crypto, or trade cryptocurrencies via CFDs
This ad promotes virtual cryptocurrency investing within the EU (by eToro Europe Ltd. and eToro UK Ltd.) & USA (by eToro USA LLC); which is highly volatile, unregulated in most EU countries, no EU protections & not supervised by the EU regulatory framework. Investments are subject to market risk, including the loss of principal.
For starters, Hedera Hashgraph is a leading blockchain platform that has raised more than $128 million from investors. Some of its key investors are Boeing, Luna Capital, Oyster Ventures, and Eternal Capital, among others.
The platform enables developers to build enterprise applications. It is currently used by some of the leading companies in the world like Google and IBM. 
Hedera Hashgraph is known for the speed of transactions in its network. For example, while Ethereum handles less than 20 transactions per second, it is able to handle more than 10,000 transactions. Solana handles about 2,000 transactions. 
Transactions in Hedera are also substantially lower. Its transactions average about $0.0001 while Ethereum and Bitcoin transactions average $19 and $22.
Hedera Hashgraph price prediction
The four-hour chart shows that the Hedera Hashgraph price has been in a narrow range in the past few weeks. The price has found a strong resistance at the key level of $0.4182. It has struggled to move above this level several times before. It has also formed what looks like an ascending triangle pattern and moved above the 25-day and 50-day moving averages.
Therefore, the HBAR price will likely keep rising as bulls target the key resistance level at $0.50. On the flip side, a drop below the key support at $0.3500 will invalidate this view.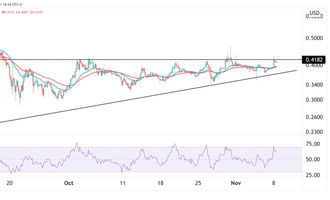 Crispus Nyaga
Crispus is a financial analyst with over 9 years in the industry. He covers cryptocurrencies, forex, equities, and commodities for some of the leading brands. He is also a passionate trader who operates his family account. Crispus lives in Nairobi with his wife and son.