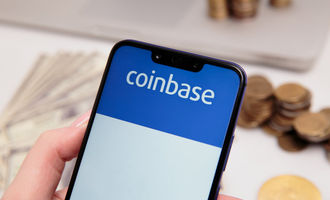 CEO Claims That NFTs Could Be Bigger Than All Of Crypto On Coinbase

Ruby Layram
Last updated 12th Apr 2022
Coinbase is currently preparing to roll out its own NFT platform. In the midst of preparations, CEO Brian Armstrong has assessed the importance of the company's up-and-coming NFT offering in the company's Q3 financial report.
The Q3 report was released on Tuesday and united $1.2 billion in revenues. These revenues mainly come from the platform's transaction fees on cryptocurrencies such as Bitcoin and Ethereum. 
Coinbase is the largest crypto exchange in the United States and its COIN shares currently trade on Nasdaq. Coinbases proposed NFT offering would significantly boost the exchange's operations and has the power to flip the entire business. Armstrong made the following statement when speaking on a conference call on Tuesday- as reported by Bloomberg.
"We are very excited about NFTs, this is going to be a very large area for crypto in the future, and it already is today," the Coinbase CEO said, adding that it "could be as big or bigger" than Coinbase's cryptocurrency business.
1
Minimum Deposit
$200
Exclusive Promotion
More than 3,000 assets, including currencies, stocks, cryptocurrencies, ETFs, indices and commodities
Buy crypto, or trade cryptocurrencies via CFDs
This ad promotes virtual cryptocurrency investing within the EU (by eToro Europe Ltd. and eToro UK Ltd.) & USA (by eToro USA LLC); which is highly volatile, unregulated in most EU countries, no EU protections & not supervised by the EU regulatory framework. Investments are subject to market risk, including the loss of principal.
The NFT plans were officially announced in mid-October. The announcement stated that the platform was intending to allow its users to create, purahse, discover and showcase Ethereum-based NFTs. The NFT offering will resemble a social media-esque presence meaning that users will be able to follow profiles and receive updates. 
Coinbase is planning to release its NFT platform by the end of the year and a number of people are already excited to try the new offering. Just a few days after releasing the official waitlist, over 1 million people had signed up to try the NFT platform. 
This number has continued to grow. Coinbase has now received over 2.5 million emails from people eager to sign up. This is a very small portion of the exchange's 68 million users and 8.8 million monthly active users, as reported in Q2 2021.
Meanwhile, Opensea- the largest NFT marketplace in the world- processed over $1.7 billion worth of transactions in the last 30 days. Over 230,000 users have been interacting with smart contracts over the same period, according to DappRadar. 
Coinbase is amongst a number of global crypto exchanges who plan to launch their own NFT platform. This is amid the significant growth in the NFT industry since September. Binance, the world's largest crypto exchange, debuted its own NFT platform in June. 

Ruby Layram
Ruby is a writer for Bankless Times, covering the latest news on the cryptocurrency market and blockchain industry. Ruby has been a professional personal finance and investment writer for 2 years and is currently building her own portfolio of altcoins. She is currently studying Psychology at the University of Winchester, specialising in Statistical analysis.