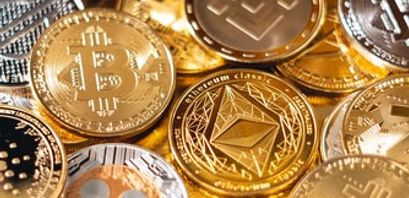 Bitcoin And Ethereum Attempt Price Recovery

Ruby Layram
Last updated 11th Aug 2022
Bitcoin is attempting a recovery above $60,000 while Ethereum is facing some resistance near $4,300. As well as Bitcoin, most major altcoins are attempting recovery. ETH is attempting to reach $4,280 while XRP is nearing $1.12. ADA still sits below $1.90.
In the fallout from reaching its new all-time high, Bitcoin has found some support near $58,000 and has started a recovery wave above the $60,000 resistance. The coin is currently trading around $60,800 but faces a number of hurdles on the upside.
Today's Bitcoin price
The price of Bitcoin has started an upside correction above the $59,200 and $59,900 levels. The coin climbed above $60,000 and $60,200 but faces an initial barrier at $61,200. The next key resistance sits around the $62,500 level. If the coin surges above this, it could start a steady upward move.
If the price of Bitcoin resumes it's decline below $60,200 and $60,000, the next key support is at $59,200.
1
Minimum Deposit
$10
Exclusive Promotion
More than 3,000 assets, including currencies, stocks, cryptocurrencies, ETFs, indices and commodities
Buy crypto, or trade cryptocurrencies via CFDs
This ad promotes virtual cryptocurrency investing within the EU (by eToro Europe Ltd. and eToro UK Ltd.) & USA (by eToro USA LLC); which is highly volatile, unregulated in most EU countries, no EU protections & not supervised by the EU regulatory framework. Investments are subject to market risk, including the loss of principal.
Today's Ethereum price
Currently, the price of Ethereum is stable above the $4,120 support level. ETH recently recovered above $4,200 but is struggling to gain momentum above $4,250. The next major resistance that the coin could face is at the $4,300 level, above which the price could move above $4,450.
If the coin takes a downside correction, the price will find a main support at $4,000. Below this, ETH could see a strong decline.
Altcoin prices
Cardano (ADA) has settled below the $1.92 pivot level. It has found support near $1.75 and is now on the rise. The main breakout zone sits at $1.92. If the coin rises above this, it could reach $2.00.
Binance Coin (BNB) has spiked towards the $550 support level and is now trading above $580. The coin has an initial resistance at $600, above which there are chances of a move towards $620.
Ripple (XRP) has corrected higher from the $1.05 support zone. The coin is now trading above $1.10 but shows clear resistance near $1.12. If the coin breaks above $1.12, the price could reach $1.20.
If you want to invest in Ethereum, you might be interested in automated cryptocurrency trading robots such as Bitcoin Prime, Bitcoin Era and Bitcoin Code.

Ruby Layram
Ruby is a writer for Bankless Times, covering the latest news on the cryptocurrency market and blockchain industry. Ruby has been a professional personal finance and investment writer for 2 years and is currently building her own portfolio of altcoins. She is currently studying Psychology at the University of Winchester, specialising in Statistical analysis.