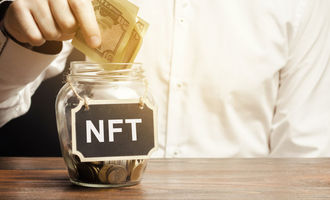 Ape Squared gears up to drop an NFT series dubbed SPACE BUGS

Jinia Shawdagor
Last updated 12th Apr 2022
Ape Squared, a bespoke NFT studio that features the creative team behind the 2018 award-winning Netflix hit film Next Gen, is readying to drop an NFT collection. A press release disclosed this news on November 17, noting that the collection is titled SPACE BUGS and comprises 3,333 pieces of art.
According to the news release, Ape Squared plans to drop the NFTs on November 20 for people on the White List, and the public sale will commence on November 21 on OpenSea. The collection features fun cosmic creatures with hundreds of elements classified into seven broad properties and over 180 traits. Allegedly, a Times Square billboard campaign has supported this NFT drop for a week.
Like other NFT collections, SPACE BUGS has a rare NFT that will see its buyer win $3,333 every month for a year.  However, there is a catch. The winner will have to transfer the prize money, which totals $40,000, if they decide to sell the NFT. The auction will not set the rare piece apart from the rest to ensure every collector stands a chance to get the NFT.
As a result of this unique offer, SPACE BUGS' Discord channel has amassed over 50,000 community members in under three weeks. This reception has also seen the project secure the top position on cryptoscores.io, a website that tracks upcoming NFT launches.
1
Minimum Deposit
$200
Exclusive Promotion
More than 3,000 assets, including currencies, stocks, cryptocurrencies, ETFs, indices and commodities
Buy crypto, or trade cryptocurrencies via CFDs
This ad promotes virtual cryptocurrency investing within the EU (by eToro Europe Ltd. and eToro UK Ltd.) & USA (by eToro USA LLC); which is highly volatile, unregulated in most EU countries, no EU protections & not supervised by the EU regulatory framework. Investments are subject to market risk, including the loss of principal.
Creating art people want to collect
Animation veteran and Next Gen Art Director Richard Chen is part of the creative team behind SPACE BUGS. Animator Rob Silvestri is also part of the team.
Commenting on the forthcoming NFT drop, Chen said,
NFTs are in such an exciting place at the moment, but we believe that with our new state-of-the-art studio in Toronto that Ape Squared is facilitating the very best artists and animators to create fabulous art which people will want to collect.
He added that he was delighted to become the art director of SPACE BUGS and that he is confident the growing NFT community will quickly invest in the collection.
The collection's grading is based on rarity, with some traits being highly collectible. Such features include the skin color of a bug, the background color of the image, and the class a bug falls under. There are multiple classes, including nature, wizard, and fire.
The SPACE BUGS project also comes with unique elements, such as the ability to win Ethereum (ETH) through the game and earn feature, which offers winners free merchandise.
Jinia Shawdagor
Jinia is a fintech writer based in Sweden. With years of experience, she has written about cryptocurrency and blockchain for renowned publications such as Cointelegraph, Bitcoinist, Invezz, etc. She loves gardening, traveling, and extracting joy and happiness from the little things in life.