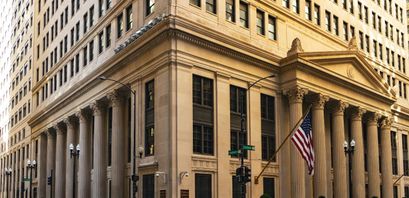 Stablecoins value can match the stability of conventional currencies, says fed official

Walter Akolo
Last updated 29th Jun 2022
Christopher Waller, the Federal Reserve governor, said last month that stablecoins can be valuable if they can match fiat currencies (or conventional currencies) stability.
The fed official offered insights on how global financial regulators can supervise and ensure stablecoins (or private digital money) are a safe payment method.
In a virtual appearance, Waller said regulators may want to check on the economics of stablecoins, despite being new in the market, to avoid compromising the integrity of the country's financial systems.
"The United States has a long history of developing, refining, and integrating new payment technologies in ways that maintain the integrity of its financial institutions and its payment systems. While stablecoins are new … their economics are far from it".
Stablecoins are a source of healthy competition
However, he added that stablecoins can be healthy competitors for "existing payment platforms and help the broader payments system reach a wider range of consumers".
And although stablecoins are potentially risky, Waller thinks … 
"[The government and regulators] should not foreclose the possibility that they may help address old ones — for example, by providing greater visibility into the resources and obligations that ultimately support any system of privately issued money".
1
Minimum Deposit
$200
Exclusive Promotion
More than 3,000 assets, including currencies, stocks, cryptocurrencies, ETFs, indices and commodities
Buy crypto, or trade cryptocurrencies via CFDs
This ad promotes virtual cryptocurrency investing within the EU (by eToro Europe Ltd. and eToro UK Ltd.) & USA (by eToro USA LLC); which is highly volatile, unregulated in most EU countries, no EU protections & not supervised by the EU regulatory framework. Investments are subject to market risk, including the loss of principal.
The governor's sentiments come when the Federal Reserve and other regulators are trying to nip the growth of private digital money on the bud, citing risks stablecoins are posing for the financial stability of the country and the implications they have on the government-issued conventional currency.
Fed weighs a possible launch of the digital dollar
At the same time, the Federal Reserve is toying with the possible idea of launching a digital dollar, which moves faster and lowers costs of transactions — even as officials sternly warn about taking such a path.
Unlike Bitcoin — which is highly volatile and unpredictable — stablecoins peg their value on government money (such as the dollar). This private digital money can be redeemed at any time for regular money.
But questions arise about whether private digital money needs governments backing, which has pushed a high interest in stablecoins offerings lately.
When it comes to having a central bank digital currency (CBDC), the Fed governor says the mandate of having one doesn't fall at the Federal Reserve's jurisdiction.
"I don't see it as the Fed's job to step in and directly compete with the private banking system to drive down payment costs".
He further remarked that private money such as stablecoins need to be regulated as other cryptocurrency assets to ensure consumer safety and sound activity. He also added that. Regulations should not stop private banks from offering stablecoins.

Walter Akolo
Walter is a writer from Nairobi, Kenya. He covers the latest news on the cryptocurrency market and blockchain industry. Walter has a decade of experience as a writer.