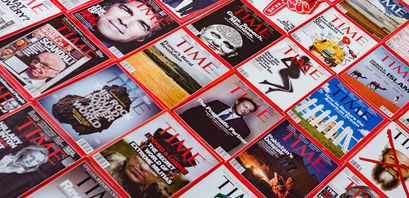 TIME Magazine doubles down on web3 due to its potential

Jinia Shawdagor
Last updated 1st Sep 2022
TIME, a renowned American news magazine, is keen on bolstering its presence in the crypto and NFT spaces after several wins in its web3 journey. A report unveiled this news on December 5, noting that the publication has generated over $446,000 in ETH since its ventured into the NFT sector earlier this year. Reportedly, TIME's first project saw it auction NFTs of three iconic covers.
In the report, Keith Grossman, TIME's President, disclosed that the company did not plan its foray into the NFT space for a long time. According to him, the NFT sale came together in several weeks. Grossman pointed out that he saw the potential of entering the NFT industry after the classic Nyan Cat meme sold as an NFT in February.
Grossman further quoted Mike Tyson, who once said everybody has a plan until they get punched in the mouth.
In this context, Grossman said the surging NFT market and evolving use cases of blockchain technology had dealt a colossal blow to TIME's course. He added that this development was an eye-opener for him.
After launching its first NFT project, TIME added support for crypto payments, allowing readers to pay to subscriptions in various cryptos. Additionally, TIME joined hands with leading asset management firm Grayscale to create educational crypto content. This partnership saw TIME get paid in Bitcoin (BTC). The company holds these coins on its balance sheet to date.
Improving TIME's relationship with customers
By venturing into the lucrative crypto and NFT fields, TIME was not only looking to purchase crypto and sell NFTs. According to Grossman, the organization's plans involve integrating web3 technology to change how it interacts with its customers.
Giving the secret behind TIME's many achievements in the nascent spaces in such a short time, Grossman disclosed that he turned to the crypto community for guidance when setting out, seeing as he did not know much at the time.
Grossman added that,
I really spent a good part of six months just listening in Clubhouse and in [Twitter] Spaces, and talking to really influential and successful people within the space—who knew way more than me about how I should think about our brand.
These efforts saw TIME launch TIMEPieces in September. The collection comprised 4,676 Ethereum NFTs that offer owners unlimited access to its paywalled website until 2023.
1
Minimum Deposit
$10
Exclusive Promotion
More than 3,000 assets, including currencies, stocks, cryptocurrencies, ETFs, indices and commodities
Buy crypto, or trade cryptocurrencies via CFDs
This ad promotes virtual cryptocurrency investing within the EU (by eToro Europe Ltd. and eToro UK Ltd.) & USA (by eToro USA LLC); which is highly volatile, unregulated in most EU countries, no EU protections & not supervised by the EU regulatory framework. Investments are subject to market risk, including the loss of principal.
Making a foray into the metaverse
Apart from crypto and NFTs, TIME started dabbling in the metaverse through a partnership with Galaxy Digital in the past month. The collaboration involved the issuance of a newsletter, educational content, and the launch of the newly created TIME 100 Companies category, Metaverse. This deal saw TIME get paid in Ethereum (ETH). TIME also holds these coins on its balance sheet.
Explaining why TIME is keen on embracing web3, Grossman said the company has been around for 98 years and seeks to be around for another 98 years, if not longer. To achieve this, he aims to help the company reach a new generation of readers through web3.
Bullish about the potential of the metaverse, he said,
This moment—that we're shifting from online renters to online owners—may very well be one of the most transformative moments in our lives, right? Because we're already online. This notion that we could be online and be owners is absolutely mind-boggling, and this Web3 evolution of the internet plus finance to me is just incredible.
Jinia Shawdagor
Jinia is a fintech writer based in Sweden. With years of experience, she has written about cryptocurrency and blockchain for renowned publications such as Cointelegraph, Bitcoinist, Invezz, etc. She loves gardening, traveling, and extracting joy and happiness from the little things in life.