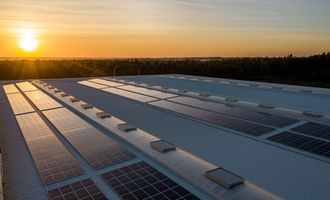 VivoPower inks deal with Caret to start solar-powered mining business

Walter Akolo
Last updated 12th Apr 2022
VivoPower announced its plans to start a digital asset mining business using "renewable generation plants."
Kevin Chin, Executive Chairman and CEO of VivoPower said, "It is clear from our studies that digital asset mining presents the highest and best power-to-x use case for our solar power sites. Furthermore, these sites are highly strategic, not just for mining, but for other power-intensive blockchain computing applications."
VivoPower partners with Caret
VivoPower, a sustainable energy solutions company, "rebranded its US solar development unit, formerly known as Innovative Solar Ventures I LLC, renaming the business Caret LLC."
According to the US Securities and Exchange Commission, Caret LLC is a wholly-owned subsidiary of VivoPower International PLC and owns solar power project sites throughout the United States. 
Previously, Caret had solar projects located in Texas and Mexico which VivoPower has since taken full economic and management control.
According to VivoPower, they plan to undertake other Caret's "abandoned projects given the increasing potential demand from Power-to-X applications and partners."
Based on comments from the CEO of VivoPower, "Power-to-x represents the use of excess renewable energy over and above baseload power for other energy-intensive applications."
"These include mining of cryptocurrencies, where we are seeing an increasing appetite from crypto-mining groups to vertically integrate their operations to include renewable generation plants, He added.
According to a statement, VivoPower will launch Caret Decimal and integrate power-to-x strategy.
With sustainability in mind, Caret Decimal will begin to mine cryptocurrencies including bitcoin, ethereum, and litecoin using renewable energy.
Upon adherence to the newly formed Bitcoin Mining Council principles, Caret Decimal may seek membership once operational. 
1
Minimum Deposit
$200
Exclusive Promotion
More than 3,000 assets, including currencies, stocks, cryptocurrencies, ETFs, indices and commodities
Buy crypto, or trade cryptocurrencies via CFDs
This ad promotes virtual cryptocurrency investing within the EU (by eToro Europe Ltd. and eToro UK Ltd.) & USA (by eToro USA LLC); which is highly volatile, unregulated in most EU countries, no EU protections & not supervised by the EU regulatory framework. Investments are subject to market risk, including the loss of principal.
VivoPower, Caret transactional value
It is expected that Caret will contribute 206 MW-DC initially of Texas solar sites. It will exchange this for $20M of Caret Decimal equity.
The solar sites located in Cottle and Hardeman Counties, Texas are valued at US$20M. They'll be commissioned and built to take care of asset mining that's 100% renewable.
Lately, bitcoin miners have been challenged to initiate 'green bitcoin mining.' Crypto mining takes a lot of computing power to solve complex crypto algorithm.
As a result, climate advocacy groups have called for regulations in the crypto mining sector due to its threat to the climate. 
Undoubtedly, Caret Decimal solar-powered mining business will set the pace for other miners to engage in 'green bitcoin mining.'

Walter Akolo
Walter is a writer from Nairobi, Kenya. He covers the latest news on the cryptocurrency market and blockchain industry. Walter has a decade of experience as a writer.