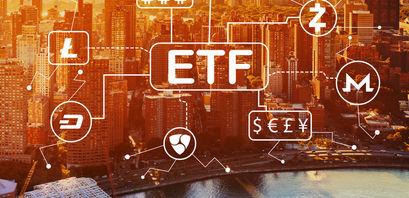 Bitcoin futures prices lower than spot prices on CME

Daniela Kirova
Last updated 29th Jun 2022
Bitcoin futures on the CME (Chicago Mercantile Exchange) have slipped into a market condition known as 'backwardation,' which denotes fading institutional interest in Bitcoin, CoinDesk reported. According to Skew data, futures prices are now lower than spot prices. Yesterday, the one-month contract slipped to a 14% annualized discount, the biggest in more than a year.
Bitcoin lost more than 6%
The three-month bitcoin futures declined to a 3% discount. Bitcoin lost more than 6%, dropping down to $45,700. Large-scale investors opt for regulated CME futures contracts to gain exposure to Bitcoin. The two Bitcoin ETFs that entered the market in October – ProShares and Valkyrie Investments – also provide the option to invest in CME-listed futures.
New corona variant creates bearish sentiment
This market development might indicate bearish sentiment due to concerns over the latest Covid variant and the U.S. Federal Reserve's monetary tightening. Before the year ends, market participants could be reducing exposure.
Physical assets like gold and oil futures experience backwardation when there is an incentive to own the asset at the earliest, for example to continue producing it. Then, spot prices are higher than futures prices.
1
Minimum Deposit
$200
Exclusive Promotion
More than 3,000 assets, including currencies, stocks, cryptocurrencies, ETFs, indices and commodities
Buy crypto, or trade cryptocurrencies via CFDs
This ad promotes virtual cryptocurrency investing within the EU (by eToro Europe Ltd. and eToro UK Ltd.) & USA (by eToro USA LLC); which is highly volatile, unregulated in most EU countries, no EU protections & not supervised by the EU regulatory framework. Investments are subject to market risk, including the loss of principal.
CME bitcoin futures are settled in cash. On the date of settlement, there is no actual transfer of coins. Moreover, Bitcoin is still primarily seen as a speculative asset.
Not the first time
This is not the first time this is happening, not even in a year. Back in May, JPMorgan noted that a discount in CME futures results from low demand from whales and institutions. Back then, Bitcoin lost almost 50% – from $58,000 to $30,000. There was a negative 21-day rolling average spread between the spot prices and the futures, expiring in two months. Previously, this happened in 2018. JPMorgan analysts commented:
This is an unusual development and a reflection of how weak bitcoin demand is at the moment from institutional investors that tend to use regulated CME futures contracts to gain exposure to bitcoin.
They found Bitcoin's low share of the total crypto market cap a bearish signal:
We believe that the share of bitcoin in the total crypto market would have to normalize and perhaps rise above 50% (as in 2018) to be more comfortable in arguing that the current bear market is behind us.
Daniela Kirova
Daniela is a writer at Bankless Times, covering the latest news on the cryptocurrency market and blockchain industry. She has over 15 years of experience as a writer, having ghostwritten for several online publications in the financial sector.