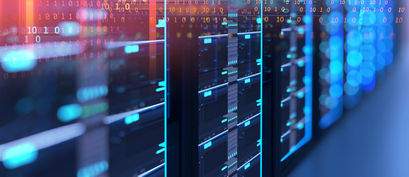 Arweave price prediction as the AR token defies gravity

Crispus Nyaga
Last updated 29th Jun 2022
The Arweave price has risen in the past four straight days even as other cryptocurrencies tumble. The AR token is trading at $48, which is about 40% from the lowest level on December 13. It is still about 50% below its all-time high of $92.
What is Arweave?
Arweave is a major blockchain platform whose native token is known as AR. The token has a total market capitalization of more than $1.6 billion, making it the 75th biggest cryptocurrency in the world.
Arweave is a platform in the storage industry. The network is a protocol that enables people to store data permanently in a sustainable manner. Users pay a single upfront fee and then enjoy the benefits of file storage.
It achieves that by matching people, mostly developers, who need storage with others who have extra space in their devices. In other words, Arweave is similar to ride-sharing companies like Uber and Lyft.
The protocol uses permaweb to provide mutual benefits to both sides. The underlying technology behind it is known as blockweave. People with extra storage are paid using the AR token. At the same time, people with storage needs are able to get storage for their files.
1
Minimum Deposit
$200
Exclusive Promotion
More than 3,000 assets, including currencies, stocks, cryptocurrencies, ETFs, indices and commodities
Buy crypto, or trade cryptocurrencies via CFDs
This ad promotes virtual cryptocurrency investing within the EU (by eToro Europe Ltd. and eToro UK Ltd.) & USA (by eToro USA LLC); which is highly volatile, unregulated in most EU countries, no EU protections & not supervised by the EU regulatory framework. Investments are subject to market risk, including the loss of principal.
Most people who use Arweave are mostly developers who use the platform's tools to store their projects. For example, a Decentralized Finance (DeFi) developer could store their files on Arweave's network instead of using centralized platforms like Amazon and Microsoft.
It is unclear why the Arweave price has defied gravity and risen even as other cryptocurrency prices retreat. Bitcoin, the biggest cryptocurrency in the world has crashed to about $47,000 while Ethereum has dropped to $3,872. In total, the market cap of all cryptocurrencies has dropped to more than $2.19 billion.
Arweave price prediction
The daily chart shows that the AR price jumped to an all-time high of $94 on November 5. This price was about 1,200% from its lowest level in July. Recently, however, the coin's prices suffered a harsh reversal and dropped by about 62%. It also moved slightly below the ascending channel that is shown in red.
Therefore, I suspect that the Arweave price will keep rising as bulls target the lower side of the ascending channel. This is known as a break and retest pattern. If it happens, it means that the price will resume the bearish trend and retest the key support at about $25.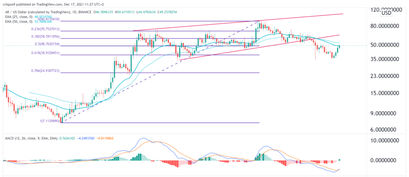 If you want to trade cryptocurrencies, you might be interested in automated cryptocurrency trading robots such as Bitcoin Prime, Bitcoin Era and Bitcoin Code.

Crispus Nyaga
Crispus is a financial analyst with over 9 years in the industry. He covers cryptocurrencies, forex, equities, and commodities for some of the leading brands. He is also a passionate trader who operates his family account. Crispus lives in Nairobi with his wife and son.