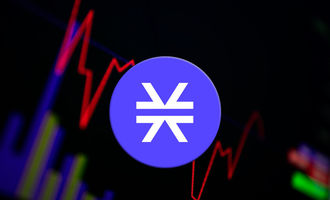 STX: Stacks price could retreat further after Coinbase listing

Crispus Nyaga
Last updated 12th Apr 2022
Stacks price jumped on Wednesday as it went live in Coinbase.
We explain why a pullback is imminent.
The Stacks price jumped sharply on Wednesday after Coinbase announced its listing and as investors cheered the growth of its ecosystem. The STX coin is trading at $2.20, which is about 12% above the lowest level this week.
What is Stacks?
Stacks is a relatively small blockchain network that is targeting the smart contract industry with a different model.
The platform has built a network that allows developers to build decentralized applications (dApps) for Bitcoin.
It is solving an important challenge. While Bitcoin is the biggest blockchain platform in the world, it does not have smart contracts capabilities. Therefore, it is not possible for developers to build decentralized apps such as non-fungible tokens (NFT) and decentralized finance (DeFi) on Bitcoin.
Therefore, Stacks has developed a process where developers can build applications that are then handled in Bitcoin. It is simply leveraging on the overall success and popularity that Bitcoin has.
In the past few months, the Stacks ecosystem has gotten more vibrant. For example, this week, it was reported that ALEX, a Bitcoin DeFi platform had raised over $6.8 million from investors. It will soon deploy its mainnet on Stacks network.
Still, according to DeFi Llama, there are just two DeFi platforms built on Stacks that have a combined total value locked of $133 million. This makes it the 36th platform in the world.
Stacks has also become a popular play in the non-fungible token (NFT) industry. It runs a popular NFT marketplace. The NFTs offered in the platform are secured by Bitcoin.
On Wednesday, the Stacks price jumped after Coinbase confirmed that it will offer Stacks in its marketplace. Historically, cryptocurrencies tend to rise after being listed in a major exchange like Coinbase and then the rally fizzles. Others that retreated after their listing pop are Shiba Inu and Dogecoin
Stacks price prediction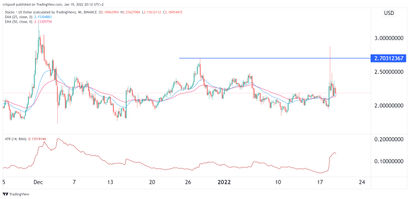 The four-hour chart shows that the Stacks price jumped sharply on Wednesday and then retreated slightly. It rose to a high of $2.60 and is currently trading at $2.20. This price is slightly above the important support level at $1.190. It is also slightly above the important 25-day and 50-day moving average.
Therefore, there is a likelihood that the STX price will resume the bearish trend and retest the key support at $1.9100. As mentioned, momentum tends to wane shortly after a major exchange listing.

Crispus Nyaga
Crispus is a financial analyst with over 9 years in the industry. He covers cryptocurrencies, forex, equities, and commodities for some of the leading brands. He is also a passionate trader who operates his family account. Crispus lives in Nairobi with his wife and son.