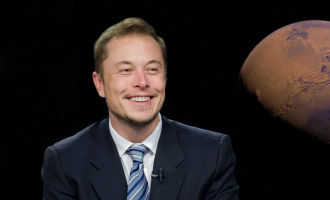 Musk Happy Meal Tweet Adds 8% to Dogecoin Value

Daniela Kirova
Last updated 12th Apr 2022
Musk would eat a happy meal on TV if McDonald's started to accept Dogecoin
After the tweet, the price of Dogecoin gained 8%, reaching $0.1445
Tesla CEO Elon Musk, who is at the top of the list of the 12 hectobillionaires in the world with $222 billion net worth, seems committed to Dogecoin as an asset and a cause. The richest person in the world tweeted on Tuesday morning that he would eat a happy meal on TV if McDonald's started to accept the meme dog-themed coin as a form of payment.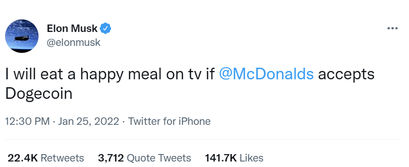 Immediately after the tweet, the price of Dogecoin gained 8%, reaching $0.1445 according to data from CoinMarketCap, cited by Business Insider. It has since fallen slightly to $0.1414 (at the time of writing), but the added value of 8% remains. Dogecoin is now back in the top 10. The 10th biggest cryptocurrency has a market cap of $18.67 billion.
Flipping burgers: the crypto investor's nightmare
During periods of a bear run of the crypto market, the crypto community often jokes about ending up flipping burgers. Last weekend, El Salvador president Nayib Bukele tweeted an image of him wearing a McDonald's uniform as the world's flagship crypto sank below $40,000.
El Salvador is the first country in the world to adopt Bitcoin as legal tender and never fails to buy the dip during periods of downturn.
Tesla accepts Dogecoin as payment
Tesla accepts DOGE as a form of payment for some of its merchandise. Last year, Musk's company temporarily accepted Bitcoin as a form of payment for its vehicles. While electric vehicles still require cash, you can buy accessories using Dogecoin. About a week ago, a Giga Texas Belt Buckle sold for 813 DOGE and a Cyberquad for kids was worth 12,020 DOGE, or $2,284 at the prices then.
McDonalds reacts to crypto selloff
Yesterday, McDonald's showed the joke hadn't escaped their attention. The fast food giant tweeted:
How are you doing people who run crypto twitter accounts?
Bitcoin correlates with stock market
Monday saw a sharp selloff in the crypto market, parallel to a decline in thestock market. The S&P500has lost almost 7% since the beginning of the year. Bitcoin has lost 17% in that period while gold remains flat, Business Insider reported.
Contrary to popular claims, Bitcoin does not seem to be a hedge against inflation. Its performance is analogical to that of stocks.
In a note on Friday, technical analyst Katie Stockton drew attention to this fact:
The correlation between bitcoin and high-growth benchmark ARKK still stands at ~60% year-to-date, versus ~14% for the price of gold, reminding us to categorize bitcoin and altcoins as risk assets rather than safe havens.
Daniela Kirova
Daniela is a writer at Bankless Times, covering the latest news on the cryptocurrency market and blockchain industry. She has over 15 years of experience as a writer, having ghostwritten for several online publications in the financial sector.